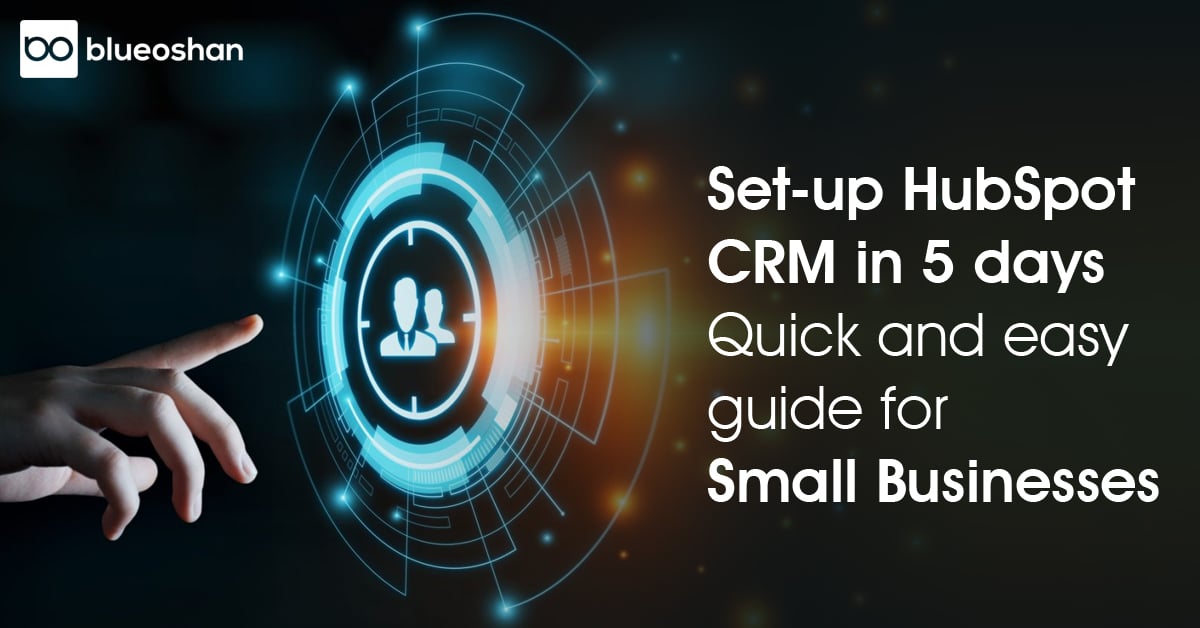 As a business owner, I've always wanted to know exactly what my customer wants from our list of services. At BlueOshan we try to give each and every customer a customized experience. This can get challenging because often customers do not know exactly what they want so our account management team helps them figure it out. And they use HubSpot CRM to maintain healthy relationships with customers. I personally like how easy it is to use HubSpot CRM, and I can confidently say, that if you're comfortable with something like Outlook, HubSpot CRM will be a breeze for you!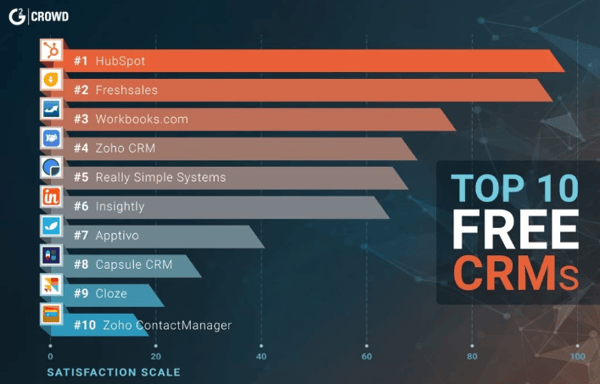 Source: G2crowd
HubSpot is great, but there are plenty of CRMs you can check out, which are also free such as: Agile CRM, insightly, Capsule, Freshsales, Workbooks CRM, Apptivo CRM, Cloze CRM, Really Simple Systems, Pipedrive and Zoho CRM. You can check out this article on what each of these CRMs have to offer.
Setting up your first CRM
Depending on user friendliness, it may take several weeks to set-up a CRM for your organization. That said, HubSpot CRM can be set up in literally 5 days!
I personally found HubSpot the easiest to follow and set up because of the number of tutorials and references that are available online.
Looking for HubSpot CRM on-boarding or implementation specialists
HubSpot can be setup in 5 steps:
1. Integrate your email account
2. Create Filters
3. Import Contacts
4. Set-up Deal-stages
5. Create a Lead Ad.
If you'd like to learn more about setting up your HubSpot CRM, there is a very detailed guide written by HubSpot staff that you should definitely give a look. But the idea is quite simple, set up your CRM within a business week and then start interacting with your contacts using the CRM. It works like magic after that, tracking everything that you need, tracking conversations so that you can jump right in from where you left off. I've really enjoyed the CRM experience that HubSpot provides, and the fact that it is constantly evolving with newer features and improvements.
One of the major features you will want to take advantage of are the dashboards that HubSpot CRM comes packaged with. You can even add the Reporting Dashboard add-on available for HubSpot Marketing. As seen below it's perfect for creating deep customizable reports. Perfect for those board meetings or those brainstorm sessions. The UI is minimalistic, clean and easy on the eyes. Look at those colourful bar graphs!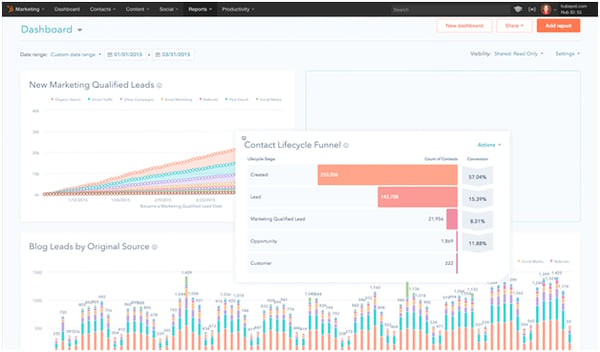 Source: HubSpot
Apart from this nifty feature, you can also track performance, appointments scheduled, contracts, and much more with ease. One of the best features of HubSpot CRM is that it tracks all customer interactions automatically whether it be email, or phone calls. The fact that it syncs completely with Gmail and Outlook makes it easier to implement, save emails and keep tabs on meetings.
HubSpot CRM is free, and when you combine it with the Marketing and Sales Hubs, you can really take full advantage of what the CRM has to offer. That being said, it works great without them as well. I recommend HubSpot CRM for small businesses especially because growth and structured relationship management are so important. BlueOshan are HubSpot partners, and we help our clients onboard the various HubSpot software suites and train them as well. If you're interested in setting up HubSpot CRM, do reach out to us, and we will be happy to help you!