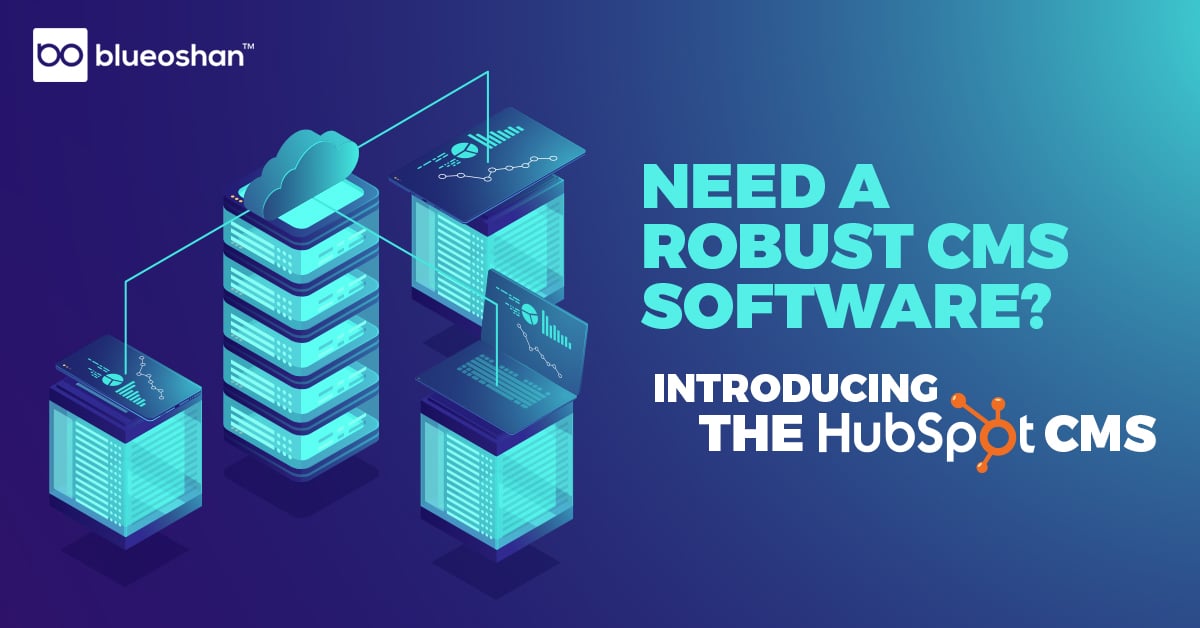 The HubSpot CMS is a tool that can completely change the way you build and manage your website. In this article we will cover the basics of what the HubSpot CMS can do and how it can help improve your entire website experience for yourself and for your customers.
We will first cover the advantages of the HubSpot CMS before we dive into the various features that can help you improve your entire experience.
Advantages of the HubSpot CMS
With unlimited CMS options out there, HubSpot CMS is fairly unique because it has a bunch of advantages that we love:
Site speed
You want your website to load as fast as possible especially in a country like India where network connectivity isn't the greatest. If users can access your website in an underground moving metro train, then you've struck gold. Site speed is a huge factor that affects your website's usability and SEO. Having fast load times will keep people engaged, however slow load times will hurt your rankings.
The HubSpot CMS comes with several built-in features to make your website load lightning-fast. These include:
Automatic image compression
Minified JavaScript
Combined CSS files
HTTP/2
Page caching

Security
There's nothing more annoying than seeing a website have that little red eye sore in the corner that says it's SSL certificate failed, or that it is "potentially unsafe". Yeah it's 2020, and you need to secure your website for your customers, and also protect yourself from the bad guys. With the HubSpot CMS, all this is taken care of.
To improve site security, the HubSpot CMS uses:
Global content delivery
Web application firewall
Included SSL
HSTS Max Age Directives
Continuous updates and sophisticated anomaly detection
Plus, HubSpot has a dedicated security team working around the clock to ensure your website is always on lockdown. Which is nice.
All-in-one system
The beauty of the HubSpot CMS ecosystem is that all of your web content can be created, managed, optimized, and analyzed in one place. That means no more plugins to manage and keep updated, no more trying to track down different data sources — it's all right within HubSpot.
CMS Tools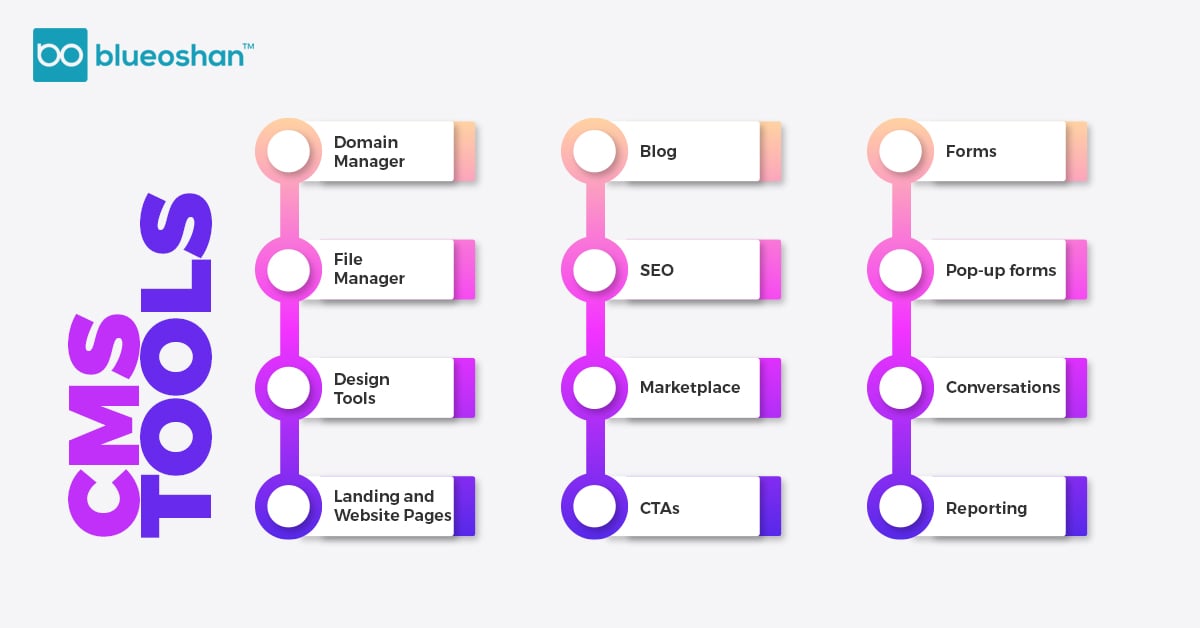 Here's a quick rundown of the tools included in the HubSpot CMS and their purpose. The tools included in the CMS are:
Domain Manager
File Manager
Design Tools
Landing and Website Pages
Blog
SEO
Marketplace
In addition to these tools, you have access to other free HubSpot tools to help fuel your inbound marketing strategy, including:
CTAs
Forms
Pop-up forms
Conversations
Reporting
When you combine the versatility of the HubSpot CMS with the FREE HubSpot CRM, you get an interesting package of software that will help you manage your relationships with all your contacts and store it in the same place with all your customer data from your website. This allows you to modify and personalize user experiences because now you have far more insights into your customer's behaviors than ever before!
What does each tool do?
Domain Manager: Connect your website domain to HubSpot to take your site live.
File Manager: Store and organize assets like images, PDF resources, videos, and more.
Design Tools: Tools for CMS developers to create and edit templates, modules, and coded files.
Landing and Website Pages: Create and publish landing pages and website pages.
Blog: Create and publish blog posts.
SEO: Map your content strategy using topic clusters.
Marketplace: Browse and download pre-made templates and modules.
Templates and Modules
One of the most important things to understand about the CMS when you're getting started is the relationship between templates, modules, and pages.
What are templates and modules?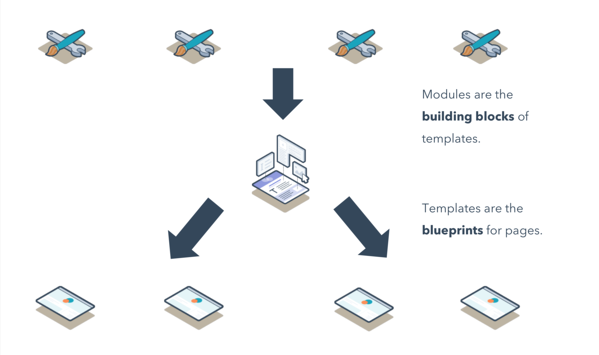 Image Source : Hubspot
Templates are files that control the layout, style, and functionality of your pages. They're built in the design manager by CMS developers or downloaded pre-made from the HubSpot Marketplace.
Modules are the building blocks of templates. They are reusable blocks of content, such as an image, form, CTA, rich text, and so on. A template will be made up of several modules and module groups.
The relationship between modules and templates is one-to-many. The same module can be used several times across many different templates.
The relationship between templates and pages is also one-to-many. The same template can be used to create dozens of unique pages. Templates are the blueprints for pages. You can build several types of pages effortlessly with templates and modules.
Global content
Global content is content that you want to create once, reuse and retain the same across your website. Logos and site headers come under global content because you want all your pages to have a cohesive look and feel.
You can create a module to be a global module or group a few modules into a global group. When you do this, it will no longer be editable from the content editors. You can only edit global content from the design tools. So, for example, if you want to edit the copyright date in your website's global footer, you can locate that module group in the design tools to make your change. It can be a little bit of work to get used to, but once you do, it becomes second nature.
The HubSpot Marketplace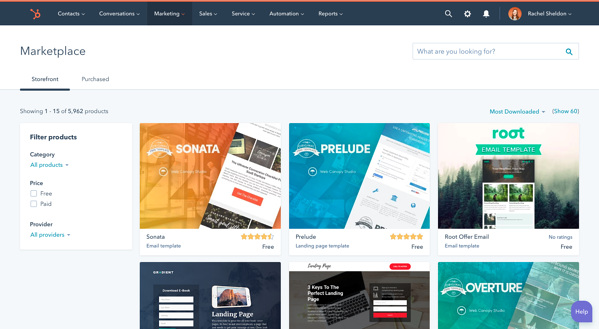 Image Source : Hubspot
The HubSpot Marketplace is an online directory of thousands of pre-made templates and modules that you can use to build a website in HubSpot. The best part of the Marketplace is that you have access to so many templates and assets created by hundreds of designers, agencies and freelancers. The HubSpot CMS allows you to build your website's look and feel in a completely modular fashion and it's so easy to pick up and learn. If you ever get stuck you can also check out HubSpot Academy which has tons of tutorials on how to navigate the Marketplace.
The marketplace can seem overwhelming at first glance, but it includes several useful features for filtering products to find what you need. The most important filters are Category, Price, and Purpose:
Category - Use the Category filter to only see the type of product you're looking for (for example, only landing page templates).
Price - Use the Price filter to differentiate between free and paid products.
Purpose - Use the Purpose filter if you're looking for a product with a specific purpose, such as a "Contact Us" page or a pillar page.
HubSpot CMS – Quality and development services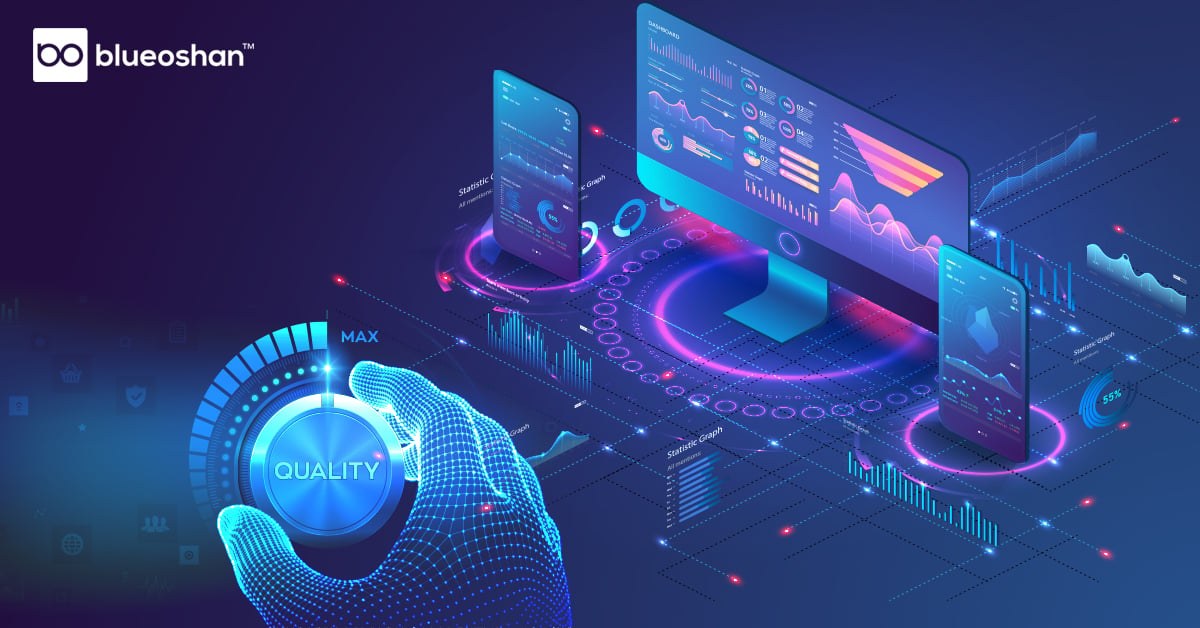 The HubSpot CMS is a powerful tool that will do wonders for your website. We provide our clients with high quality development services and deliver what they want. All our work is delivered by HubSpot Certified Developers:
Cost Effective, Clear & affordable Pricing
Codes we write on HubSpot are of developer readable quality
We do cross device compatibility QA testing
We can implement complex designs
We can write/develop custom HubL modules
We can work with your designs or use our in-house design team
We turn things around quickly
Templates that we develop are 100% responsive, user friendly and modern.
We provide HubSpot services for companies that have either just onboarded it or have been using it for a while. Our HubSpot services team for the USA and other countries provides end-to-end implementation and consultation.

Topics: Hubspot, Hubspot CMS