What's new in the Sales Hub?
INBOUND 2020 unravelled an all-new, unique online-event experience this year and at BlueOshan, we are extremely jubilant to present to you a slew of innovative and impactful product updates and features that HubSpot has unrolled across its Sales, Marketing, Service and CMS offerings at INBOUND 2020.
In this blog, let us take you through the exciting additions to the Sales Hub from the HubSpot stable.
Feature updates in the Sales Hub
INBOUND 2020 has unfurled a vastly improved Sales Hub Enterprise that features impactful product updates such as Custom Objects, AI-powered sales acceleration, Connected Configure-Price-Quote Tools, and Streamlined Sales Reporting.
Custom Objects in Enterprise Grade
HubSpot has made custom objects available across all Hubs in the Enterprise grade. This enables the newly improved Sales Hub enterprise to allow you greater flexibility and control in building your sales and business. Custom Objects allow you to store any data that you may need in HubSpot, such as SaaS subscriptions, students related data, shipments, and more.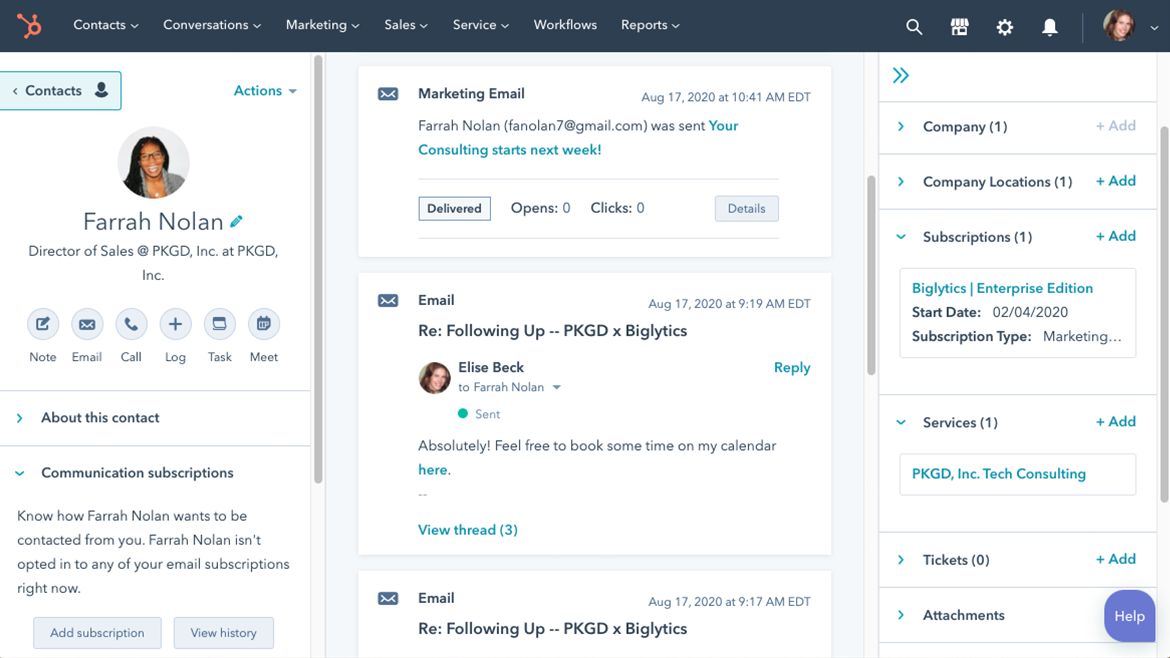 Image Source: HubSpot
And what's more? Custom objects function exactly like standard objects (such as contacts, companies and deals) in HubSpot which means that you can not only create and manage your data in custom objects with greater ease (contacts, companies, and deals), but also set up workflows, and report on custom object data just like the standard objects data.
You would require HubSpot API to avail and use the custom objects feature. Visit the property settings to learn more on availing the custom objects features on the Sales Hub enterprise.
AI-powered Sales Acceleration
In addition to the custom objects' enablement, a range of new tools have been introduced to augment the efforts of your sales team.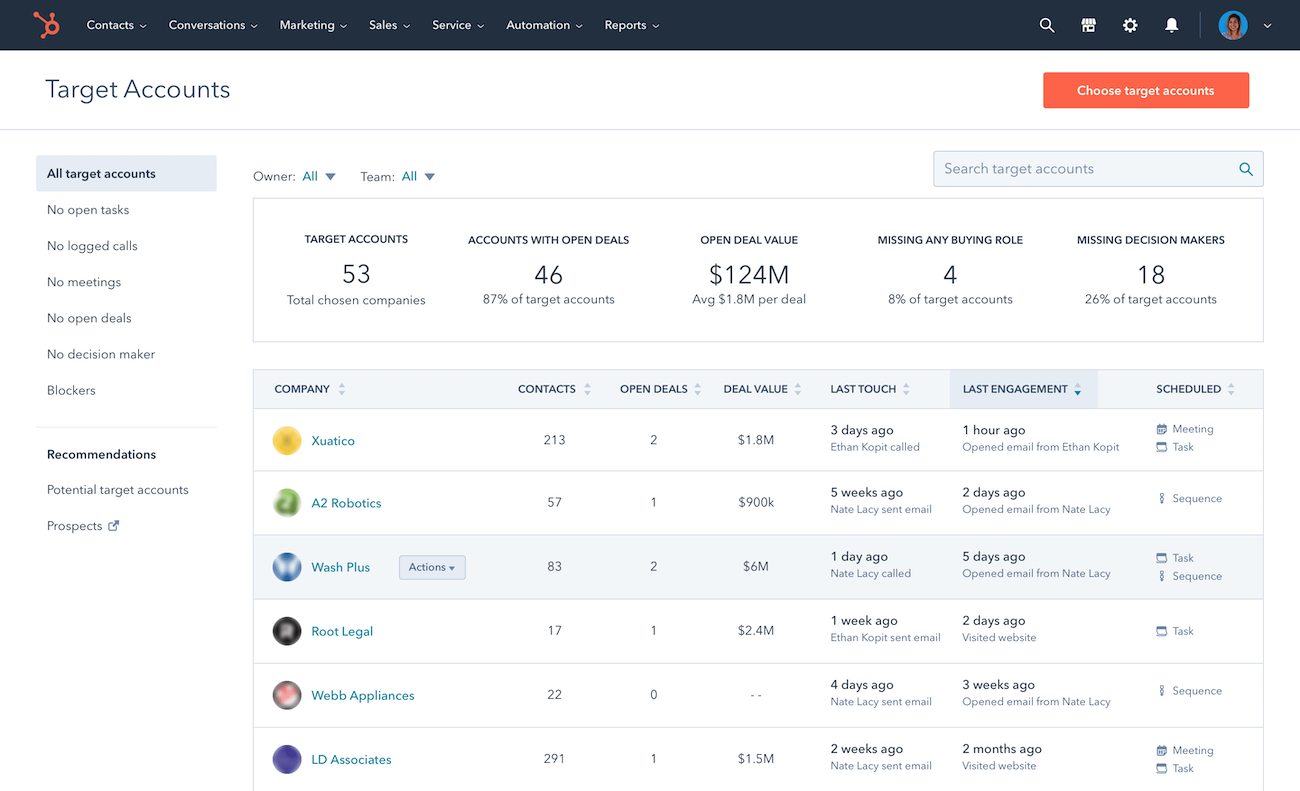 Image Source: HubSpot
1. Artificial Intelligence
One such tool leverages the power of AI that automatically scans a prospect's email signature and pulls up pertinent information such as name, job title, company, and other relevant information of that prospect into your CRM. This AI powered feature is enough to save your sales team close to two hours every week. Such time saved can be gainfully employed in nurturing your leads, won't you agree?
AI is so ingrained into HubSpot and accessing it is so simple, all you need to do is to simply turn it on in your contact and companies' settings to accelerate your sales process.
2. Sales Engagement Tools - Sequences
In the last months, discernible and useful improvements have been made in Sequences which include bulk enroll, sender score, a more fitted integration with LinkedIn Sales Navigator etc. These improved Sequences facilitate easy setting up of email series and follow-up steps and allow fool proof coordination of the sales process across all channels without any mistakes.
So you now not only can bulk enroll up to 50 contacts in a sequence, but also bulk unenroll multiple contacts if your sales communication plans change, all with just a few clicks.
You are also firmly in control of sales automation as you can pause sequences based on conditions of task completion. This allows your automation to be relevant and fresh.
Improved Sequences allows you to add manual emails between the automated sequence steps and you will be prompted with the email template for you to personalise or alter according to the relevant situational demands.
3. The all new Today View
Your sales representatives would be working with data from a number of applications such as notebook, CRM, calendars, email inboxes, spreadsheets etc. Scurrying through this disparate milieu to ascertain their sales goals could be a time-consuming uphill task. The all-new 'Today view' drop down under 'Tasks' would serve as a personalized command centre to your sales reps to stay focused on their next steps and daily to-do list. Today view is available also on mobile and would help the sales reps to stay on course funnelling their efforts by being a single source of guidance.
Configure-Price-Quote (CPQ) Tools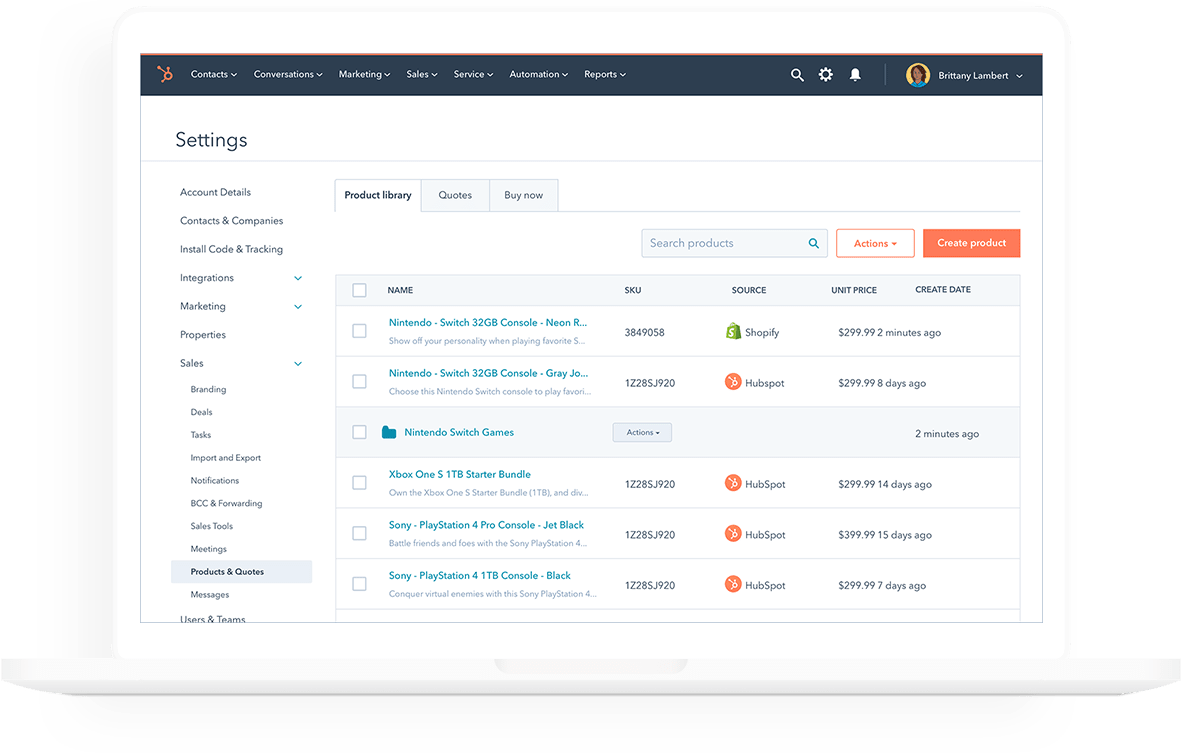 Image Source: HubSpot
HubSpot has introduced an accounting extension and a few all-new accounting integrations that can help to turn your quotes into cash, efficiently and without hassles. Whatever be your accounting software; be it NetSuite, QuickBooks Online, Xero or Nubox, the new integrations allow you to generate invoices, associate tax codes and sync currencies directly within HubSpot. These new CPQ integration tools save time, smoothen your closing process thus allowing your sales people strengthen amicable relationships with the new customers.
Streamlined Sales Reporting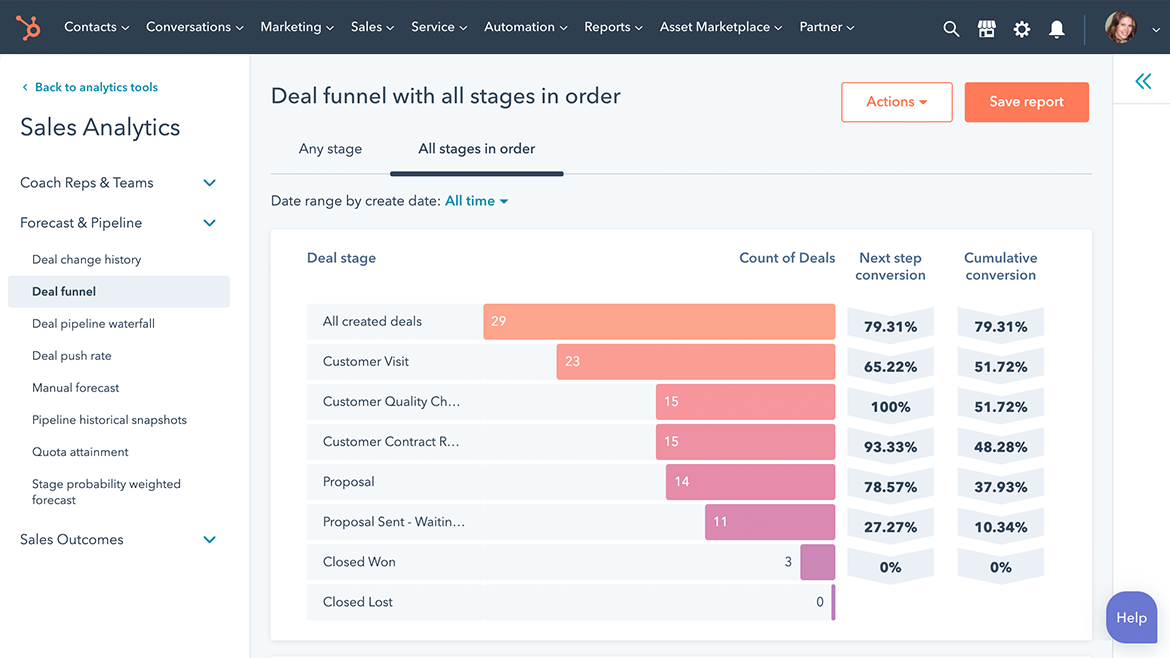 Image Source: HubSpot
Lastly, the all new sales analytics tool provides powerful insights and accurate overall picture of your sales pipeline. Sales Hub Professional and Enterprise customers now can gain access to over 20 powerful reports like the deal funnel report that presents a crystal-clear view of your sales funnel. Thus, all your sales reports get streamlined and brought together to give you a bird's eye view of your overall sales picture and forecast. Sales Analytics also include "Coach Reps & Teams" reports, a valuable coaching aid to the sales manager.
So, with all these additions to the Sales Hub Enterprise, you would surely love its ease of use and frictionless bringing together of the newly improved tools that shall empower your sales team to perform efficiently.
This in a nutshell is about the range of new features, add-on tools and INBOUND 2020 product updates introduced in the Sales Hub. Watch out this space for INBOUND 2020 product updates Part II and III that shall summarise the new updates to the Marketing, Service and CMS Hubs.
Meanwhile, reach out to our Inbound marketing expert team at BlueOshan for further details on these product updates or for installing the newly improved Sales Hubs. As a Platinum-tiered partner agency of HubSpot, BlueOshan assures seamless installation, hands-on training and ongoing support of HubSpot's inbound marketing solutions. We are just a call away!
Topics: inbound2020