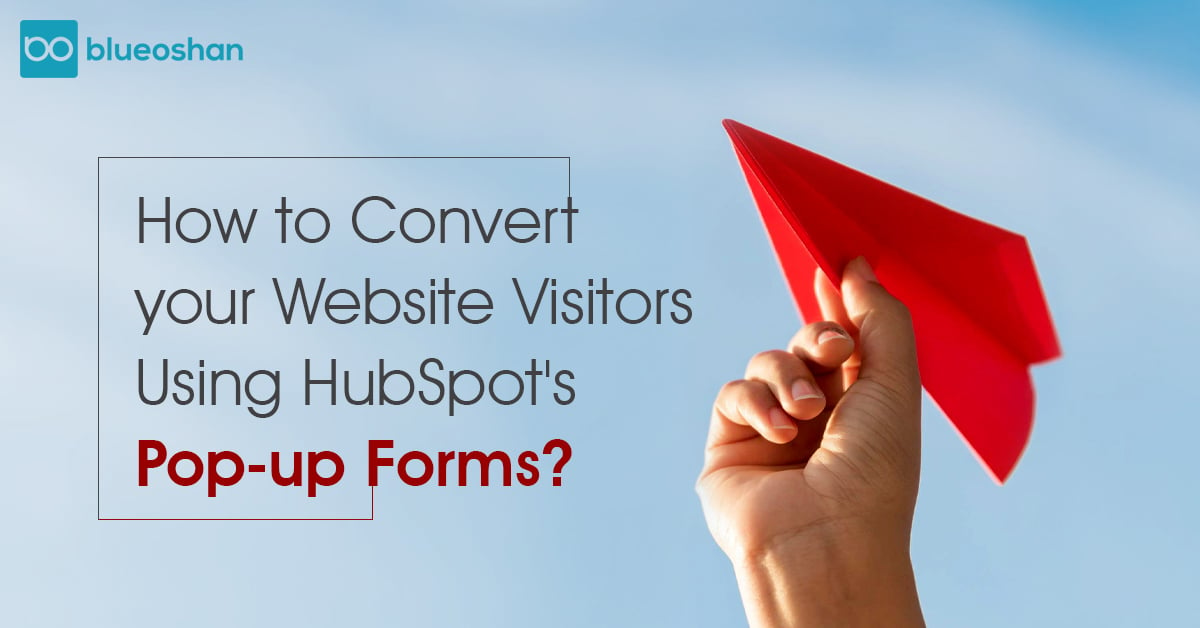 The inbound methodology is all about giving people different ways to get in touch with your business. A marketer must know what to do to reach his audience at the right time, and one way of doing this is by using the HubSpot Pop-up Forms tool.
For those unfamiliar, the HubSpot Pop-up forms tool is a pop-up style of tool that all HubSpot Marketing users have access to. Unfortunately, traditional pop-up forms were poorly designed and were often disruptive to the user experience. There is no doubt that this is the reason pop-ups have a bad reputation amongst users and web designers alike. However, pop-ups do work, and can certainly bring in conversions if they're done right. As long as they're utilized with a sound strategy and implemented in a way that doesn't hinder the user experience, pop-ups can bring in more leads than you can imagine.
Speak to experts in Marketing Automation and specialists in the HubSpot CRM for more personalised guidance.
AWeber found that using pop-up forms for obtaining blog subscribers converted 1375% better than a traditional form. Research done by Sumo showed that the top 10% of pop-up forms convert 9.3%. Let's discuss a few tips for using pop-up forms to improve conversions:
Tips for Using pop-up forms
Here are a few tips to get started with pop-up forms.
1) Consider your format
Position is everything. When placing your pop-up form try to place it on a page where the content is engaging and you think your customers might be interested in more. Don't place pop-ups all over the place, but instead try to understand why your users have landed on a particular page and how why they would interact with the content of the page. When you put yourself in your visitor's shoes, you'll be able to understand the visitor experience. What if a visitor wants to read similar content? Pop-ups should urge such users to sign up for regular content updates!
The most important aspect of pop-ups is user experience. Sometimes you might want to try a slide-in box or a dropdown banner that gently prompts your readers to subscribe if they're enjoying your content. A pop-up box could also be used to bring attention to a discount, promo or call-to-action.


Adjusting when the pop-up form appears on a page is a great way to reach out to users who have committed to your content. Take the example of users who have scrolled down 50% of the page: these users are probably consuming your content and are interested in what the page has to offer. You can set up triggers for user scrolling or even timers to pull up your pop-ups. Based on user retention stats, you can judge when would be the appropriate time to spawn your pop-up form and start converting. This is a good strategy to ensure that users enjoy your content, and if they do, you offer them more .
2) Align your "call-out" with your content
When designing your pop-up form, it's important to understand its components:
Both components serve different purposes, but the most vital component is the call-out. The call-out is what you write to convince your viewers to click in and expand the form. If you fail at the call-out, you risk losing your viewers to the dreaded X sign. The call-out needs to be brief but compelling, relevant and informative. Most call-outsgenerally have a line or two of text, and match the content that is on the page. So, if you have an article about say "Video Games News", the call-out must contain text that alludes to the topic at hand, for example: "Your guide to gaming delivered to your inbox daily.". Customize your call-out to match the content on the page, and make sure your form is relevant to the person that is reading the page. As long as you are specific with what you're offering on the other side of the form, and your call-out is appealing, your pop-up form will be successful.
3) Connect Pop-up Forms with your nurturing efforts.
HubSpot professional and enterprise users can use pop-up forms as triggers to lead to automated processes. For example, if someone fills out a pop-up form , you can send them automated follow-up emails (up to 3) within the pop-up tool or enroll them in a workflow. These follow-up actions will be integral to improving leads and subscribers. Experiment with pop-up forms to see what works best for your website. Pop-ups have the potential to completely turn around your lead nurturing activities if done correctly.
BlueOshan is a HubSpot partner, and we take pride in setting up HubSpot and troubleshooting Workflows. If you're looking to onboard HubSpot, do contact us, and we'll be more than happy to get you started.
Topics: HubSpot Implementation