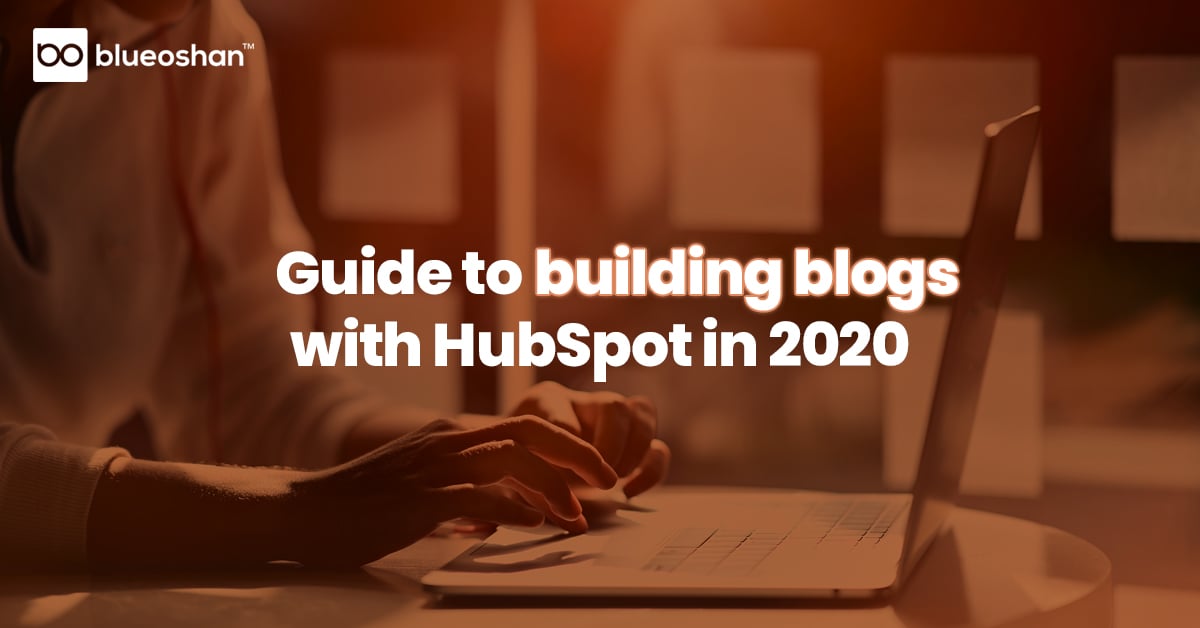 If you're building your own website, it's important to create content for it, and blogs are the best way to improve your ranking on search engine result pages. Building a blogging ecosystem shows that you have authority and domain knowledge and can be a good way to convert potential customers. HubSpot works on the inbound marketing philosophy which is a content heavy initiative. This guide aims to help you set up your blogs efficiently by using HubSpot's blog tool, a powerful platform for building authority around your topics and generating traffic to your site. So, let's jump right in!
Settings
Your settings tab is where you can create a new blog or manage your existing blog options. Here you will be able to set defaults for your blog root URL, language settings, comments, subscriptions and more.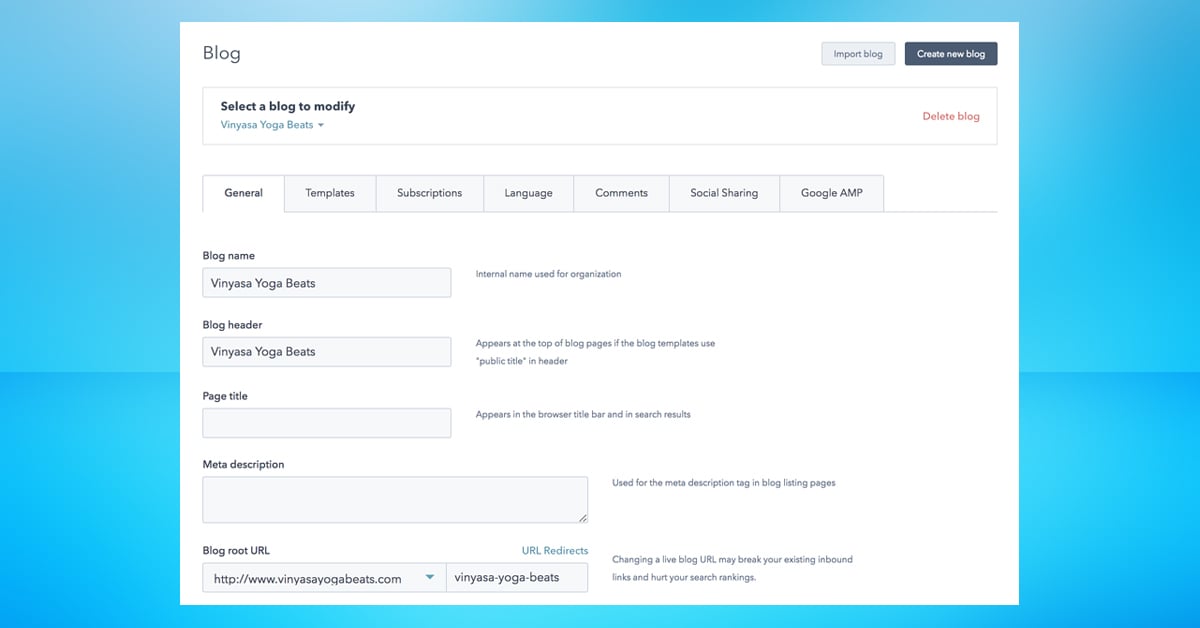 The purpose of HubSpot's blog tool is to create compelling content that educates and excites your audience about your business, your products and your services. The first thing you should get out of the way is updating your blog settings, company branding, and connecting your domain correctly.
Create a new blog post
Creating your first blog can be a very exciting and daunting task. Once you have a blog structure and flow in mind, keep a collection of images, embedded videos or anything interactive that will keep the blog interesting. Many bloggers tend to think a wall of text is the way to go, but let's be honest, no one wants to read a dry essay. Spruce up your blog with interesting bullet points so that you can take advantage of the Snippets feature by Google. Try to answer frequently asked questions on the internet. Help users quickly find what they're looking for in Google and other search engines.
Blogging is all about giving the right information for the most popular questions around your area of expertise. We also suggest having visual breakers such as quotes and screenshots if you're trying to publish a tutorial. Quotes from industry leaders give blogs a lot more authority and backlinks are essential for your search engine optimization efforts. The higher your quality of backlinks are, the higher your website will be ranked in search engine result pages. Finally, evergreen blogs are the best method of writing blogs. A blog that stands the test of time is always a priority. Try to be as comprehensive as possible when creating your blogs.
In your HubSpot account, navigate to Marketing > Website > Blog.

Use the blog dropdown menu to select the blog for your new post.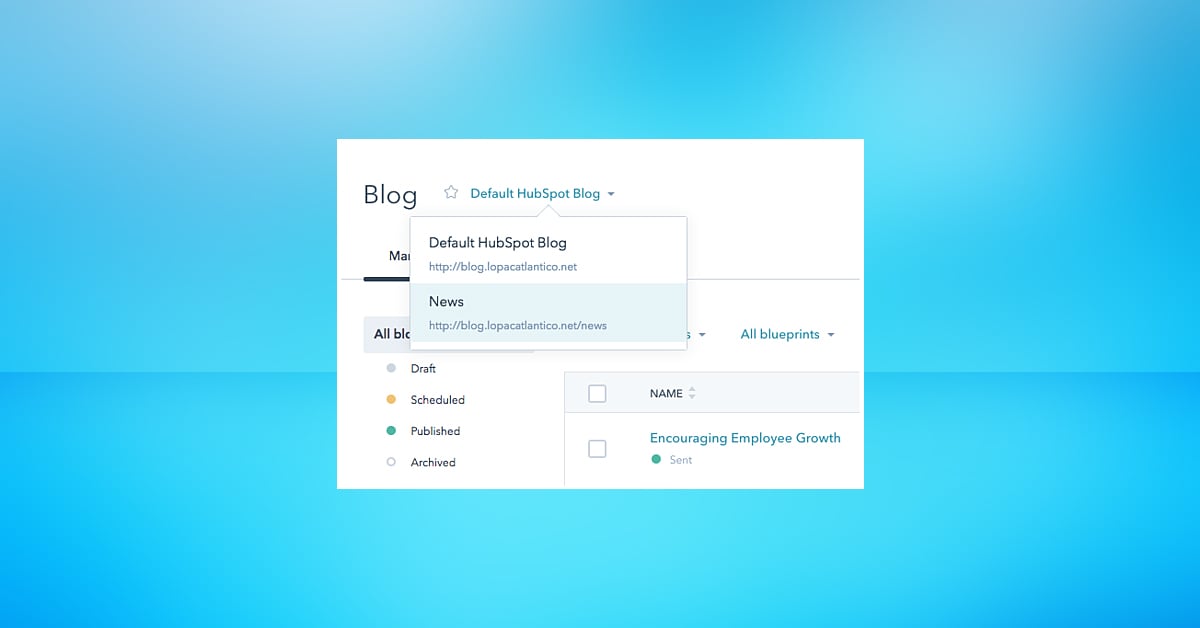 In the upper right, click Create blog post. Or hover over an existing post and click Edit.

Choose whether to create a post in draft mode or inline edit mode:



1. Select Draft Mode to focus on writing and content. This editor removes publishing options from view until you're ready to optimize and publish your post in the inline editor. Learn more about how to work in draft mode.

2. Select Inline Edit Mode to use the classic WYSIWYG (What you see is what you get) rich text editor.
Edit blog post content
Updating your blog posts is a very necessary part of blogging. Information is always changing on the internet, and it's important to keep your evergreen blogs - well - evergreen. Sometimes a content audit is one of the best ways of checking if your past blogs are outdated. If they are, quickly edit the blog post's content with new information. Search engines prefer blogs that have the newest and best content to offer. Therefore, updating blogs frequently with the latest data is beneficial not only to the health of your website but to your customers and readers.
Hover over the blog post title module and click the pencil icon ✏ to enter your blog post title.
Hover over and click the post body area of the editor. This action will reveal a formatting menu.
Use this menu to add text, images, and CTA buttons to your post. Learn more about using the rich text editor interface.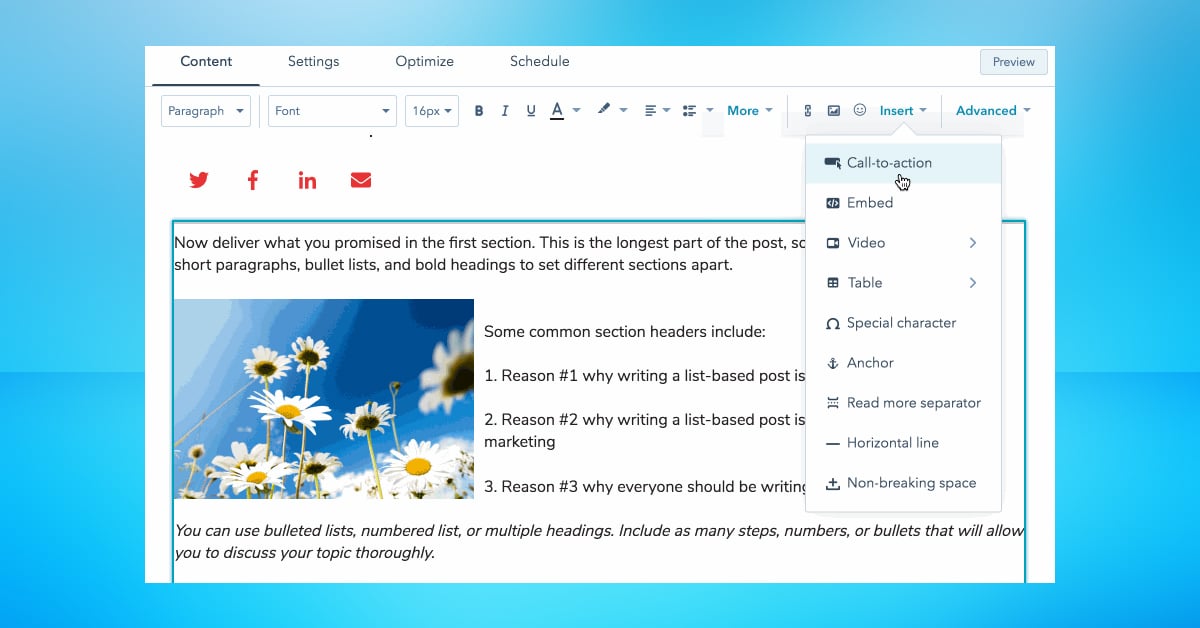 By default, your blog listing page will show the first paragraph of your post in the preview. You can customize this by manually adding a Read more separator:
In the post body, place your cursor where you want the preview of your post content to end.

Click Insert and select Read more separator.

You can drag and drop the separator into place as needed.
Edit blog post settings
These settings are great if you have guest writers and you wish to credit them. Also adding blog tags can definitely help you categorize your content. It will help your content managers differentiate between hub and hero content, and the various pillars of content you have storyboarded for a period of time. Having a well-organized blog is not only pleasing to the eye but gives readers confidence that you're serious about the content you're pushing out. Linking blogs to specific marketing campaigns is also an added benefit.
Advanced settings help you customize features such as your blog template as well as email notifications. You can manage your blog URLs, titles and other important settings under the blog post settings tab, to ensure there are no duplicate blog posts.
1. Click the Settings tab to customize your blog post details to update your post settings:
Edit the blog post title.
2. Click Advanced settings to expand additional options:
Review and optimize your blog post
HubSpot provides companies with a lot of search engine optimization features that are very useful to increase traffic to your website. Out of the box, you will have access to insightful SEO recommendations which can really help you blow up your blog! Don't miss these powerful features because if there's no point running a blog if its discoverability is low on search engines. Picking the right topic for your blog also goes a long way, and there are many websites like Ahrefs which can help you identify keywords to help you optimize your blogging efforts.
Use the optimize tool in the editor to review suggestions to improve your content for SEO best practices. To organize your overall content strategy, attach your content to an SEO topic.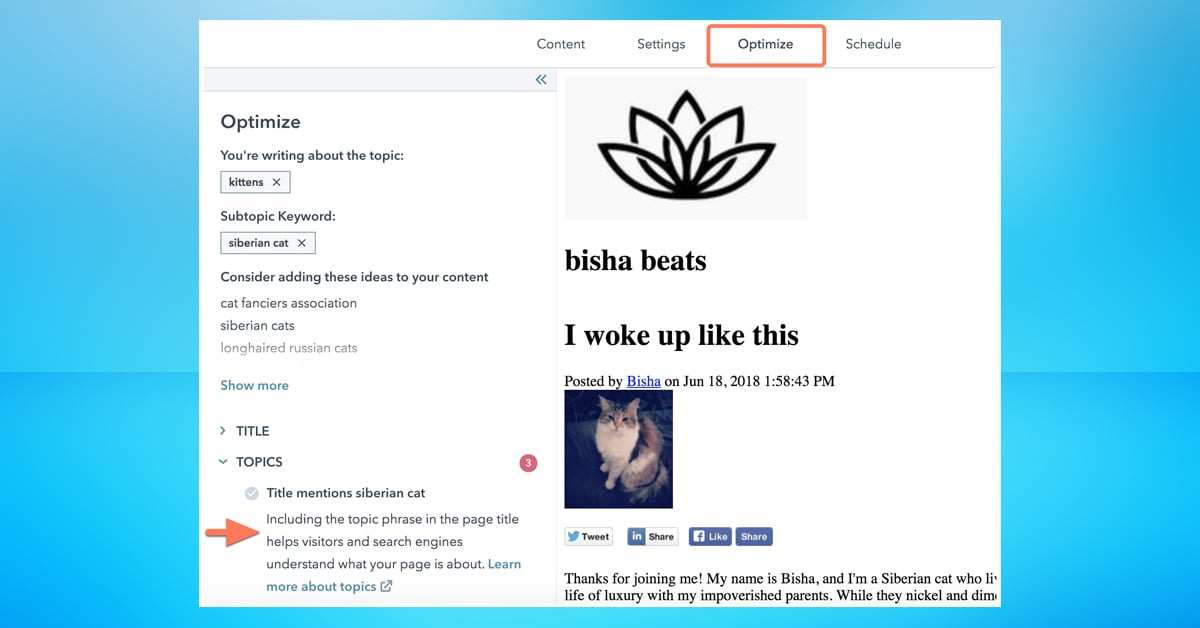 At the top of the editor, click Optimize.

You'll see groups of related SEO tips open in the left panel. Any item that needs action will have a red circle with the number of items that need to be addressed.

Click a grouping to expand more details:

1. SEO recommendations with a green checkmark have been completed.
2. SEO recommendations with a grey checkmark need to be completed.
Preview your blog post
Most people who are new to blogging are in a hurry to publish their blog as soon as possible. Don't make that mistake! Take some time out to preview your blog, check it's formatting, check if all the backlinks are working and how it looks on the desktop and mobile platforms. These are important checks to make before you publish your blog. Once you are happy with your blog preview, feel free to publish and promote your blog.
In the upper right, click Preview to see how your blog post will appear to visitors.
Device preview: click Open in a new window to see a live preview of your blog post in a new tab in your browser. This preview link will work before your post is actually published. Click Copy shareable link to copy the link to your clipboard to share it with your team.
Click Full Post View to preview the specific blog post you're editing. Click Main List View to preview your blog's homepage.
If you've enabled Accelerated Mobile Pages (AMP) for your blog post, click Google AMP to see how your blog will appear on a mobile device.
Smart preview: click the Preview as dropdown menu to preview how your blog post will appear for different contacts in your database.

1. Select a contact to preview how personalization will appear based on that particular contact's property values. Click the second dropdown menu to select a specific contact from your database.

2. Select a smart rule to preview how smart content on your blog will appear to contacts who meet its criteria. Click the second dropdown menu to select a specific smart rule to preview.
Device type: click Mobile + Tablet to see a live preview of your page on a phone or tablet device. Click Desktop to see a preview of how your page will appear on a web browser.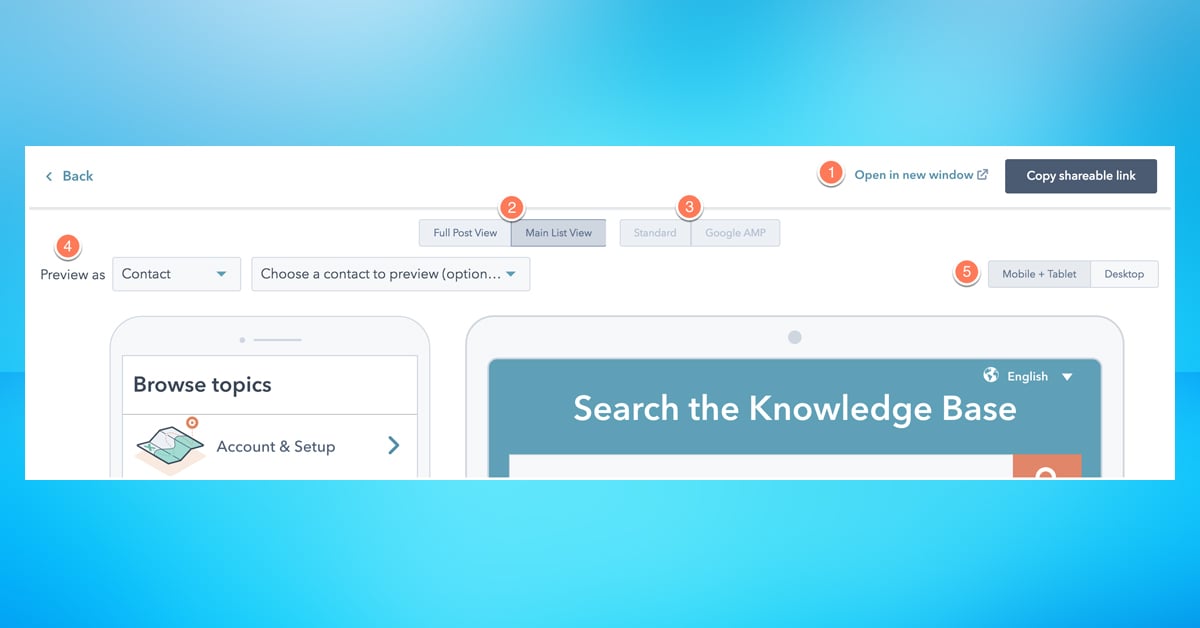 Publish or schedule your blog post
After you've added your content, optimized it for search engines, and previewed how it will look to visitors, you're ready to publish your blog post. You can also schedule your blog post to be published at a specific time and day if you have a routine (which you should!). The most important aspect of blogging is routine, and you must never miss a blog post. We at BlueOshan also take our blogs quite seriously, and we never miss blog posts (touch woodJ). Once you get into a schedule it's very easy to stick to it!
Click the Publish or schedule tab and select Publish now to publish immediately, or Schedule for later to publish this post at a future date and time.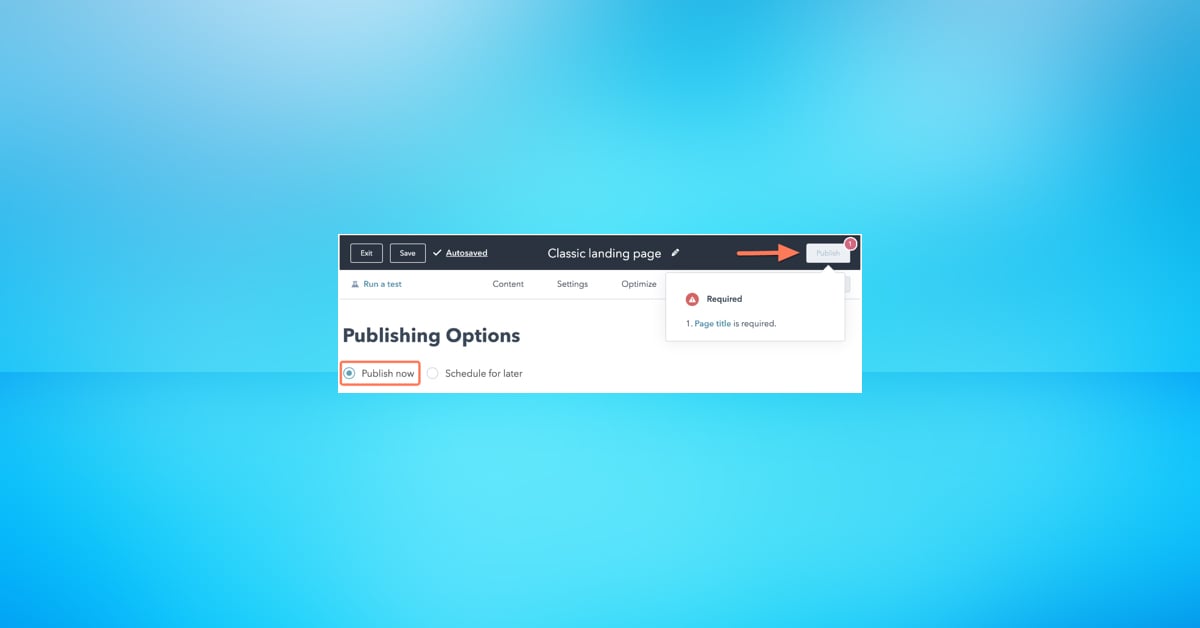 If there are any required items missing from your page, you'll see an alert in the upper right corner of the Publish button.
Once you've finished completing all the required items for your blog post, click Publish.
Image Credits : HubSpot

For more HubSpot tips and tricks subscribe to the BlueOshan newsletter! We've got you covered!
Topics: Hubspot CMS