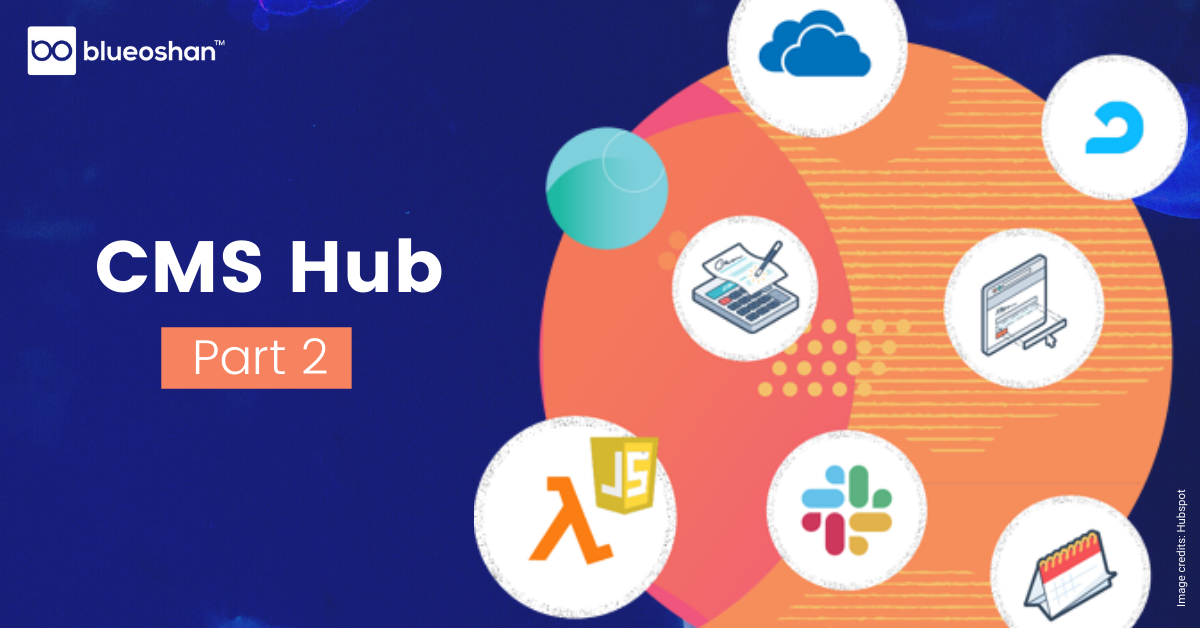 The experience you wish to give your customers when they visit your website and its security have always been top considerations for HubSpot - rightly so. User experience is a factor of how easy and simple it is for you to make the edits you want. And worrying about website security is a monkey that you certainly want to get rid of your back.
Let me give you some context to what HubSpot means by saying 'taking the pain out of managing' your website. In order to understand this better, a gentle dive into these thoughtfully designed features is quite essential. Here is our take on the key features of CMS Hub.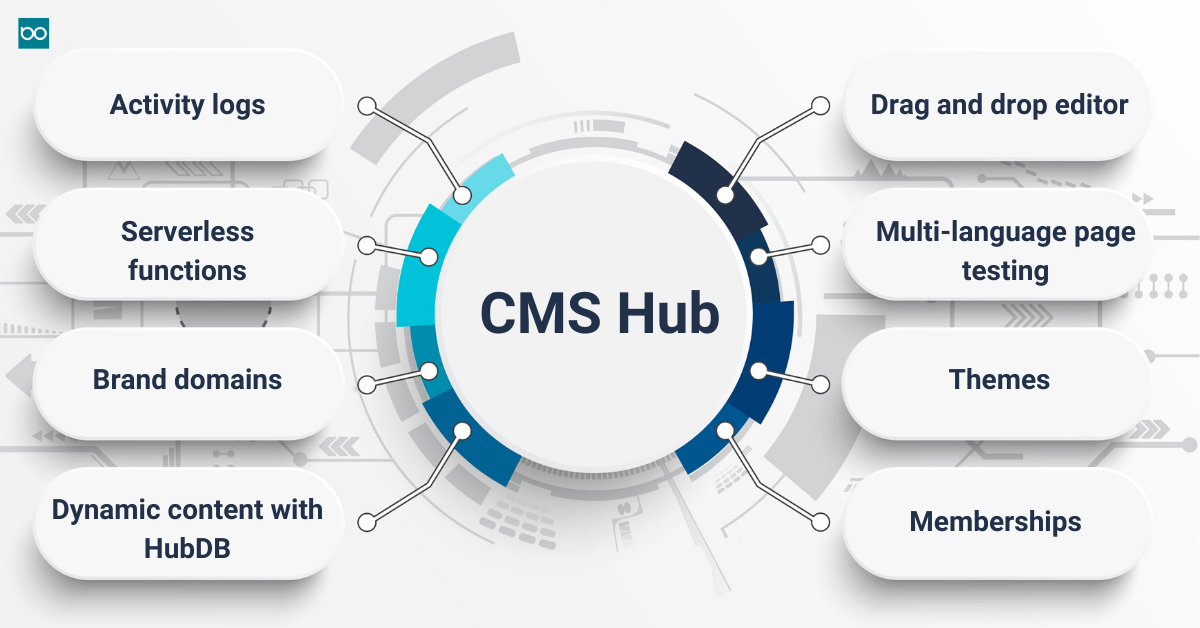 DRAG AND DROP EDITOR with CMS Hub's drag and drop editor you can apply changes to specific pages without impacting the rest of the website; you can have customized pages across the site without developing a new template; in essence, iterations are easy. You need not update the whole website template when you want to adjust a few columns or add a new CTA.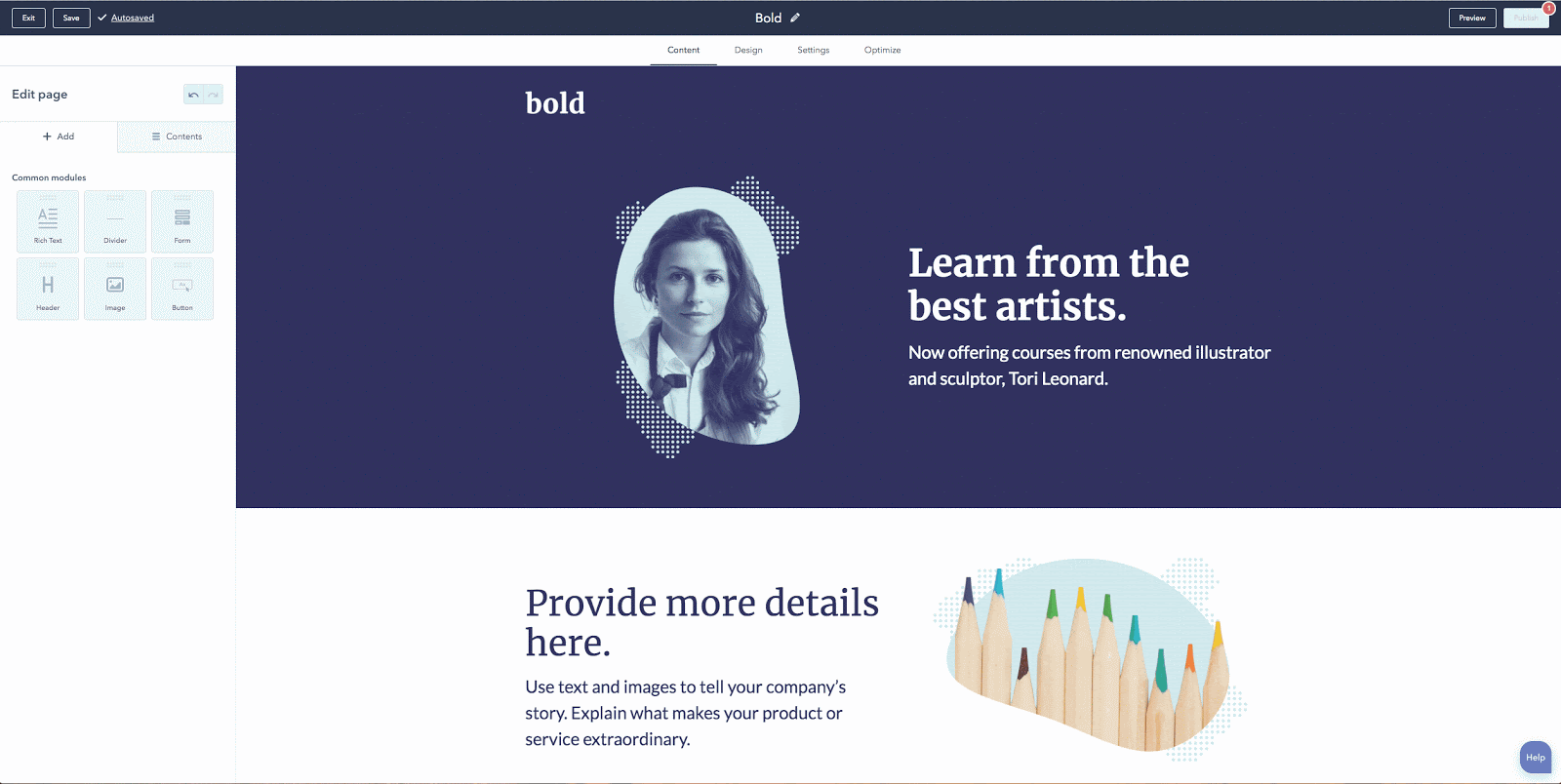 Image credits: Hubspot
MULTI-LANGUAGE PAGE TESTING feature of CMS Hub makes A/B and adaptive page testing simple. In the pre-CMS Hub times, it was not possible to test language variants on your webpages. HubSpot has now fixed this problem for us. With the Enterprise plan, it is possible to run adaptive page tests on your content; you can test up to 5 (page) variants of a given page by leveraging the machine learning capabilities of the CMS. When your prospects and customers visit your website, they will be served the best performing page (version), automatically.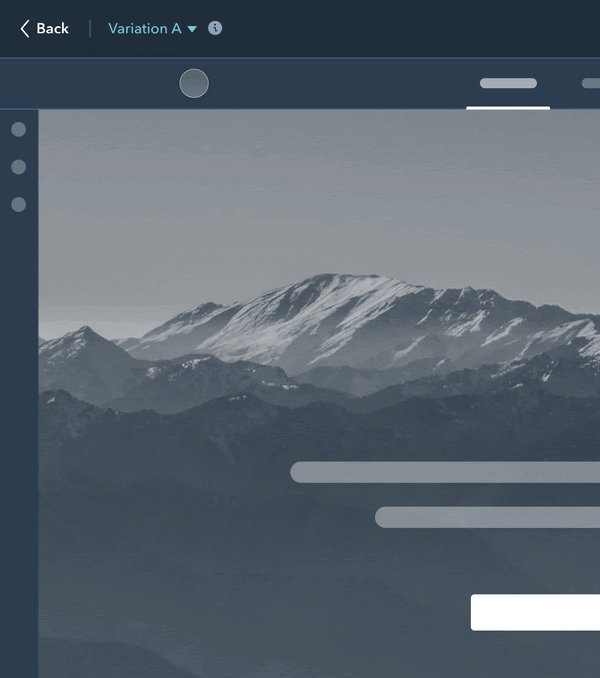 Image credits: Hubspot
THEMES reduces dependence on developers. The idea here is to use their time wisely. It would rather make sense to take their help in designing a few fit-for-purpose templates than making them modify the text, color, and images. Once you have a structure to play with, I am sure you will be able to take care of the rest. Won't you be...? Think about Events, a typical case in point - you can make your edits in no time, publish, and start marketing.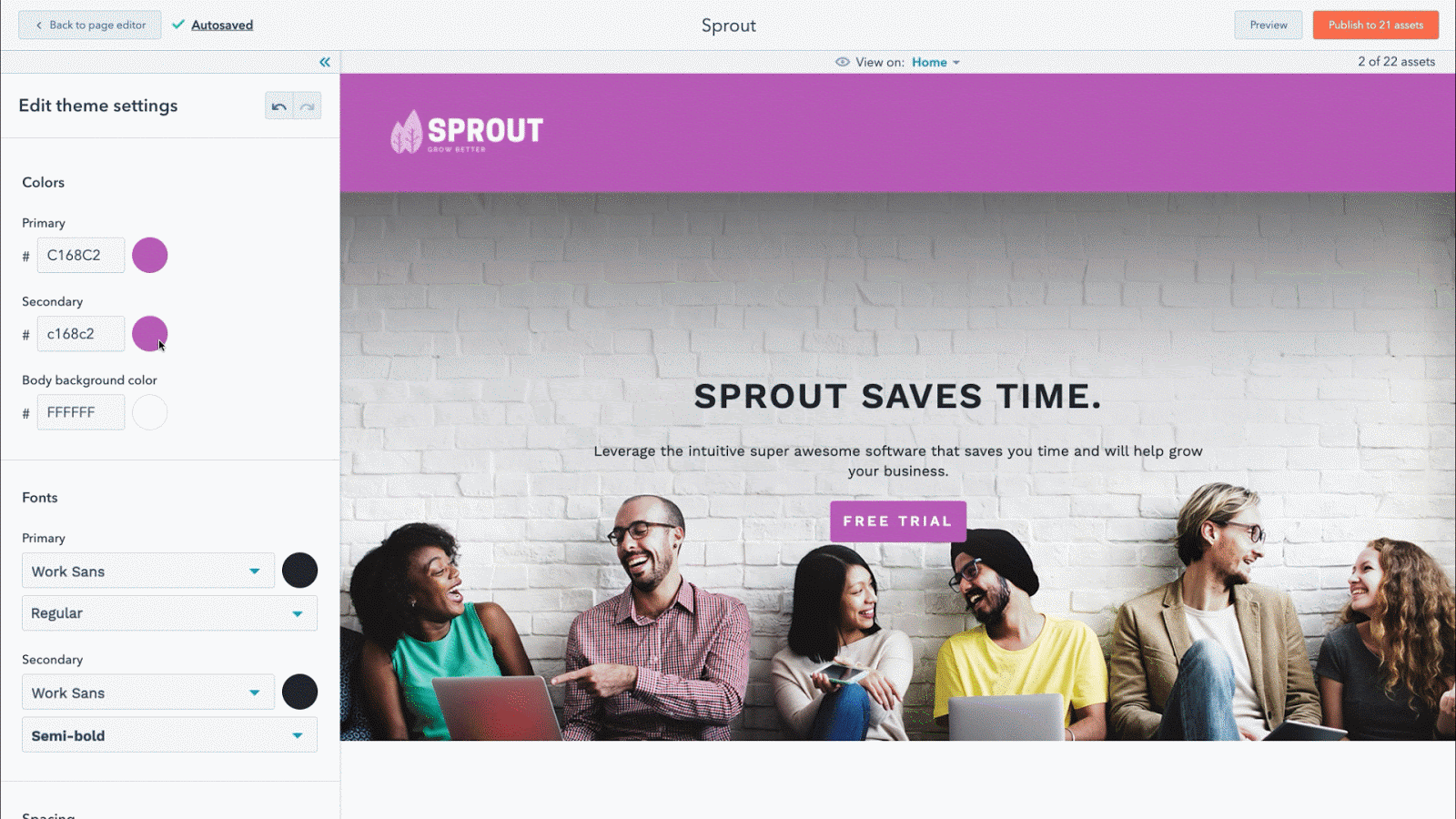 Image credits: Hubspot
If you are someone who is inquisitive, a theme is a collection of assets, say CSS files, templates, and modules that your developer can use to create a user-friendly experience for you to edit content across your website importantly, within the guardrails that are set up for you.
MEMBERSHIPS is a brilliant feature that takes content personalization beyond changing visuals using industry match. With the memberships feature in CMS Hub, you can present your visitors with premium content or recommendations based on their previous interactions. Content can be tailored for every visitor. For example, you can create a page called 'Your Events' and show the events that your customer had signed up for previously.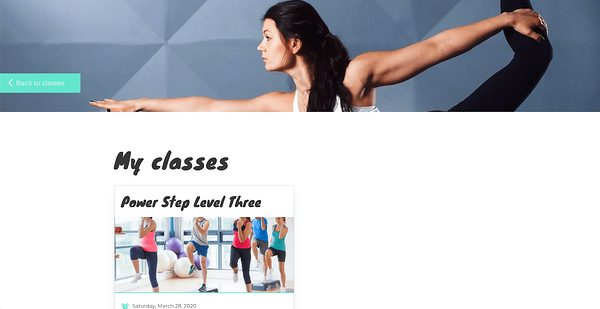 Image credits: Hubspot
DYNAMIC CONTENT WITH HubDB - HubSpot's Inspire website is a great place to understand how HubDB works. The way it works is, websites of HubSpot partners or customers are submitted to Inspire. Each submission becomes a row item in the datatable. Should you need to update an entry, just update the table and publish your content. Basically, you create reference content within your datatable for the pages you build. When you update content in the datatable, information across your website gets updated. This is a great feature for those of you who need large scale, dynamic content creation. It lets marketers take ownership of their website and focus on customer experience. With CMS Hub Enterprise, you can build powerful web app experiences and provide greater content governance.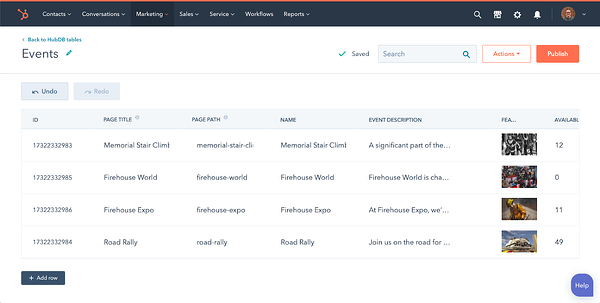 Image credits: Hubspot
BRAND DOMAINS - when you grow, you will need more websites. Be it a microsite for your new vertical or a full-service website for your new business, CMS Enterprise plan can support 2 domains. And you can purchase more domains as well. You can host all your sites in a single CMS and report on all of them without having to struggle with multiple systems.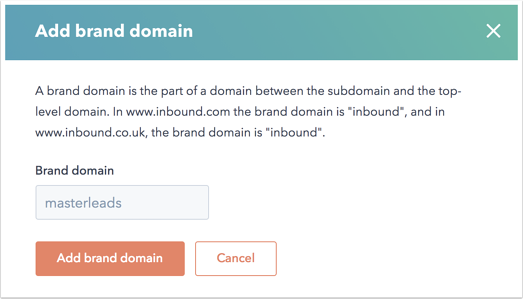 Image credits: Hubspot
SERVERLESS FUNCTIONS becomes powerful when you combine it with HubDB and membership features. When you want to build robust web applications that expand your website's functionalities, CMS Hub Enterprise is a great choice. With Serverless Functions, you need not worry about traffic spikes impacting the performance of your website. Those of you who are curious to know what Serverless Functions mean, think about websites with calculators or event registration forms that need to respond with results and confirmations instantaneously. Such applications that provide you an awesome experience depend on server-side codes and it's not easy to manage those servers. This is a major pain point that HubSpot has addressed with their CMS Hub.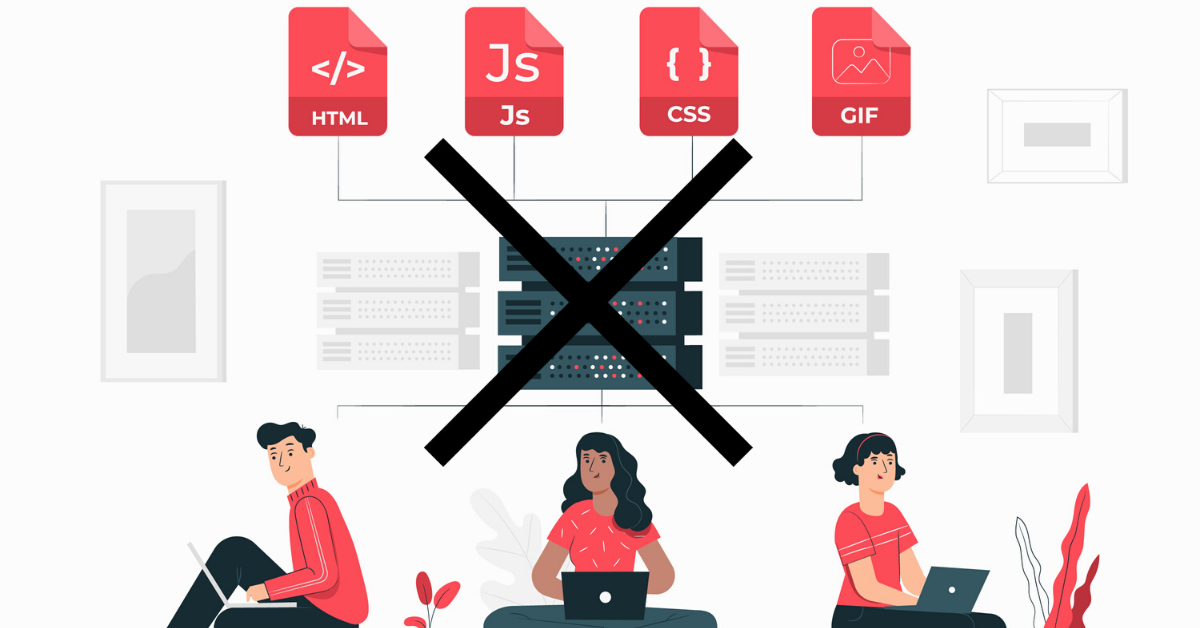 ACTIVITY LOGS, keep a tab on who changed what and when is super important. Irrespective of the size of the business, monitoring website updates is not as easy as it sounds. When your marketing and content teams grow, you will need a strong tech-enabler for better access and content governance. CMS Hub Enterprise's Activity Log feature gives a complete track down of everything that was updated on your website, when it was updated, and who updated it?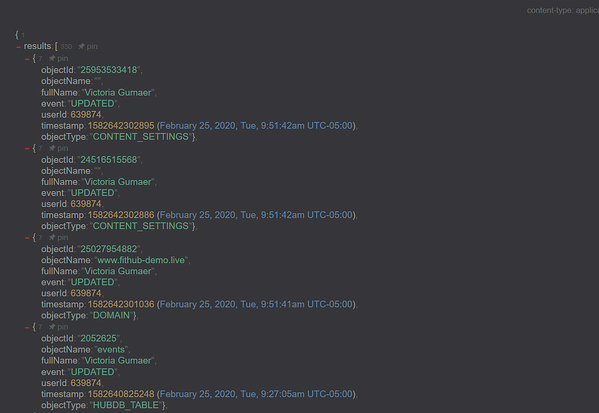 Image credits: Hubspot
PRICING - CMS Hub Professional subscription is $210/month, and the Enterprise is $630/month. There are no hidden charges or caps on the number of users, visitors, or storage which are quite typical of traditional CMSs…
At BlueOshan, we have been working with HubSpot CMS for a long time and our design and development skills have grown manifold over time. Be it your existing installation or a new one that you are planning, our CMS consultants will be happy to support you.

Topics: Hubspot CMS