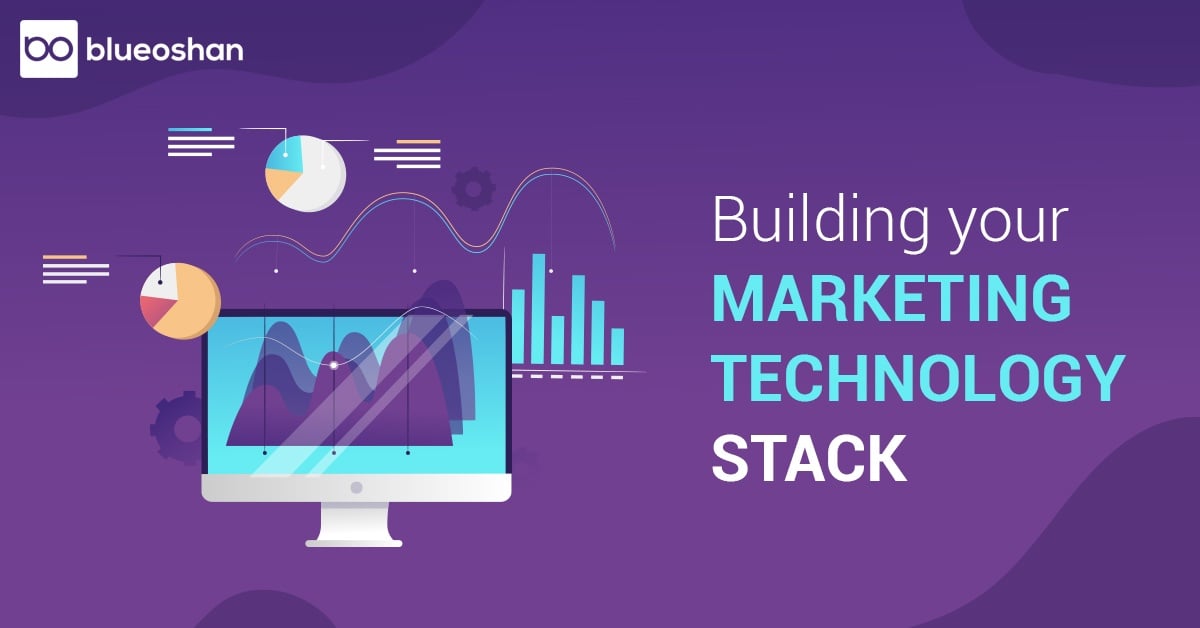 If you haven't read our blog post on what a Marketing Technology Stack is and what tools and tech comprise a martech stack, do check out our blog here. If you're looking to build your own martech stack, then that's exactly what we will try to do in this post. If you haven't checked out Snapapps' awesome blog on marketing technology stack, do check it out as it pretty much covers everything in depth.
Case Study: The BlackRock Marketing Tech Stack
BlackRock calls its Tech Stack MarTechtropolis, and in this illustration has divided their tech stack into 4 broad categories:
Need help with defining your business's marketing stack requirements?
Discovery City
Concept Park
Plan-Ville
Do Town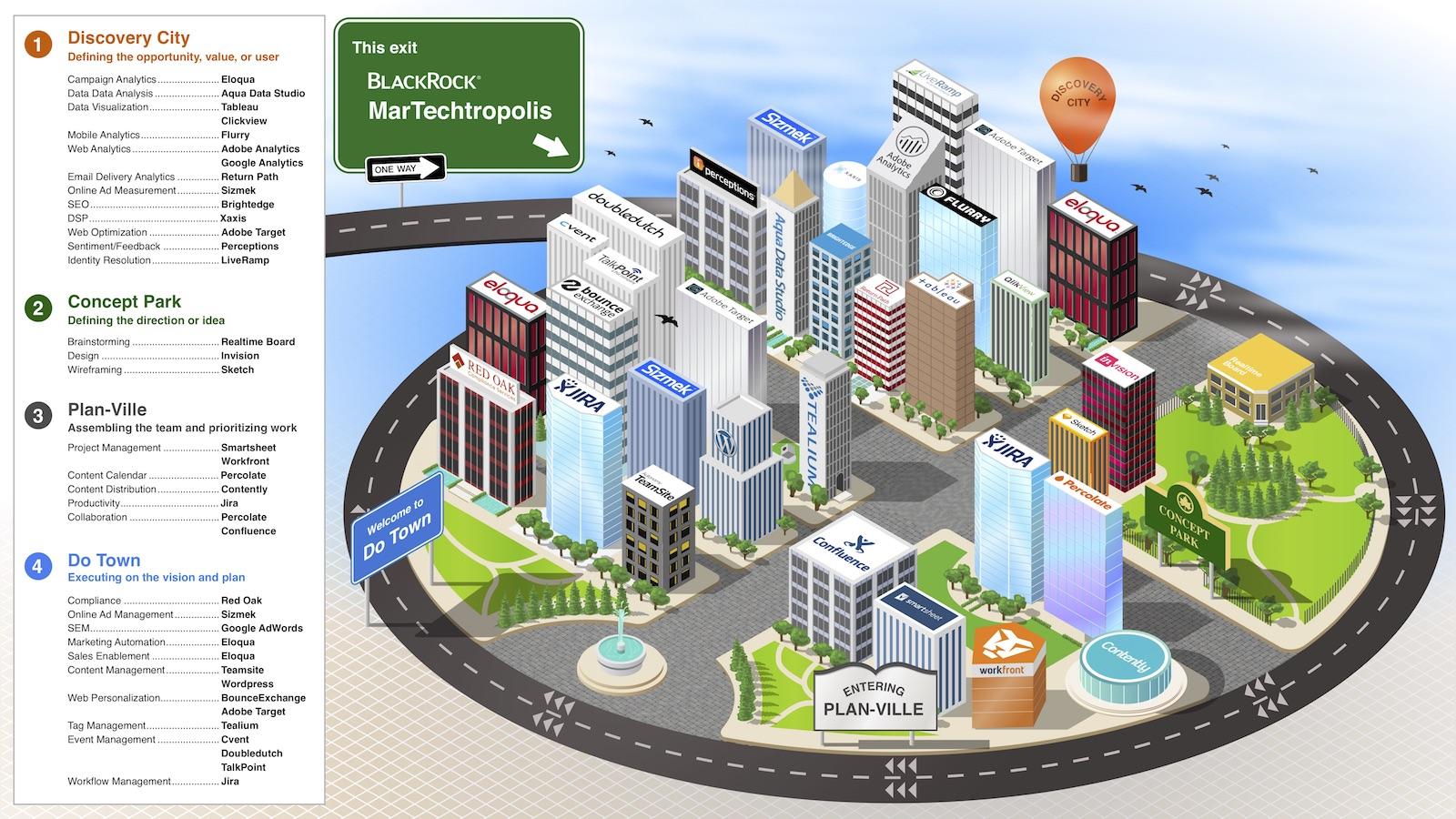 Source: Chiefmartec.com
Each of these sections has a specific role in the entire stack. In the Discovery City section, BlackRock intends to define the opportunity, value or user. This section is mainly comprised of analytics tools, data visualization, online ad measurement, web optimization, identity resolution and SEO. After the discovery phase, the team uses applications like RealtimeBoard, Invision and Sketch for brainstorming and designing new ideas. These are apps that are used by marketing teams to visually collaborate - they are essentially design toolkits. Plan-ville apps are mostly directed at assembling the team and prioritizing the work. Most of the software used here is for project management, content calendar and distribution and productivity collaboration. The fourth and final phase of the MarTech Stack of BlackRock is the Do Town, which is all about executing the vision or the plan.

Taking the example of BlackRock let's dive a little deeper and see some of the apps they've used for each phase.
Discovery City
1. Eloqua - In the case of BlackRock's martech stack, Eloqua is being used for Campaign Analytics. Eloqua is a software as a service platform or SaaS used for marketing automation offered by Oracle. It's used mostly by B2B marketers and organizations to manage marketing campaigns and sales lead generation. We recommend HubSpot instead as it's ranked #1 by marketers while Eloqua is ranked #5.

2. Aqua Data Studio - Aqua Data Studio is productivity software for Database Developers, DBAs, and Analysts. It allows you to develop, access, manage, and visually analyze data.
3. Google Analytics - Google Analytics is a freemium web analytics service offered by Google that tracks and reports website traffic, currently as a platform inside the Google Marketing Platform brand.

4. Adobe Target - Adobe Target is a cloud software tool that helps users to personalise content and marketing.

Concept Park

1. RealtimeBoard - RealtimeBoard is an online cloud based service for team based discussions, brainstorming, product design allowing you to collaborate in real time.

2. Invision - InVision is a prototyping, collaboration and workflow tool. InVision gives you clarity, collaboration, and control of everything you need to power your design process. It allows you to efficiently and simply create interactive mockups for your wireframes and designs.

Plan Ville

1. Percolate - The only cross-channel marketing calendar flexible enough to connect TV, digital content, media buying, events, and the rest of your marketing portfolio, Percolate keeps teams coordinated and gives you complete global visibility into everything happening across your organization.
2. Smartsheet - Smartsheet is a software as a service application for collaboration and work management that is developed and marketed by Smartsheet Inc. It is used to assign tasks, track project progress, manage calendars, share documents and manage other work.

Do Town

1. Google AdWords - Google AdsWords is an online advertising service developed by Google, where advertisers pay to display brief advertisements, service offerings, product listings, and video content within the Google ad network to web users.

2. Cvent - Cvent, is a privately held software-as-a-service company that specializes in market-leading meetings, events, and hospitality management technology.

A quick look at how BlackRock has accomplished their Marketing Stack should give you a good idea for building your own MarTech stack. We will be in future blog posts covering The Stackies 2018, the award for the best Marketing Stacks made by companies. We will also be covering Cisco's marketing stack since it has consistently done well in The Stackies for two years in a row.
Topics: Marketing Technology Stack