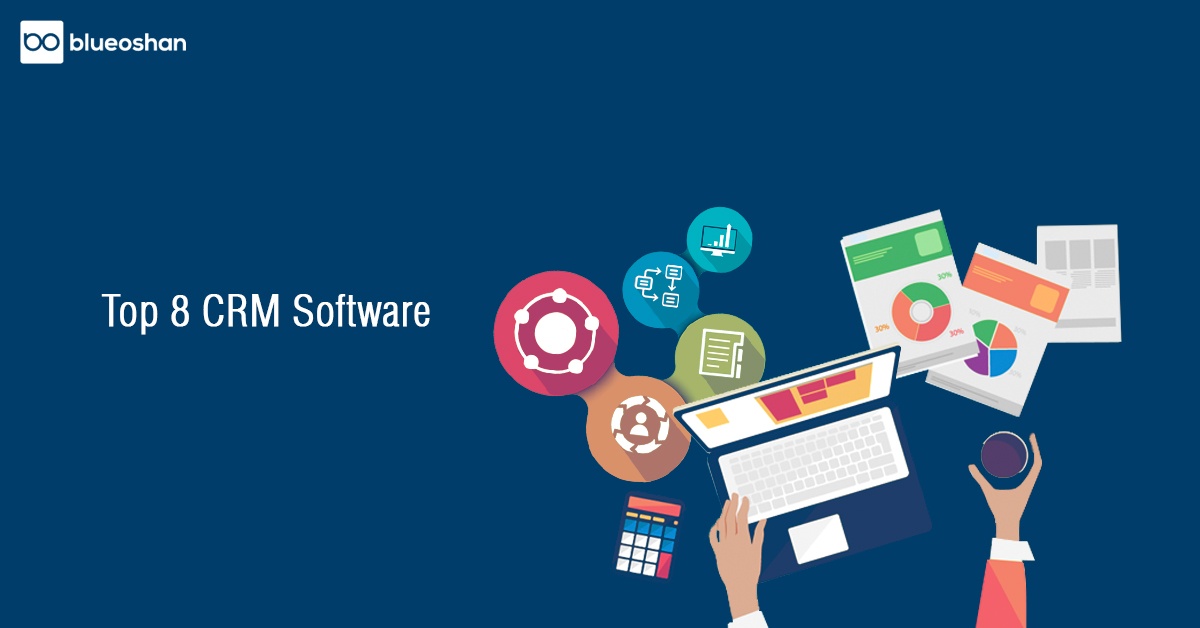 In customer relationship management (CRM) it's very important to choose the right software solution for your business. Whether you are a small startup or an enterprise organization, it's important to choose the right CRM solution. Some of the features CRM softwares provide control over are things like customer data, customer interaction, lead tracking, marketing, customer support, email tracking, customer partnerships, training, and resources.
CRM software is mostly used to manage business-customer relationships, but they can also be used to manage business contacts, employees, and clients.

Based on pricing, features, and reviews of various CRM software companies, we have made a
list of the top 8 CRM software that is used by companies around the world:
1. HubSpot CRM
We had to put this on number 1 because HubSpot CRM is absolutely free. They offer a plethora of features like contact management, Gmail and Outlook integration, contact and company insights and many more. For the marketing teams, it provides lead analytics dashboards, pop up forms and contact activity. For the sales teams, it has email scheduling, email tracking notifications, and call features to name a few.
2. Zoho CRM
Perfect for small to large sized companies, Zoho CRM provides an end to end customer relationship management solution for sales, marketing, customer support /service and inventory management. Zoho CRM also offers a free version, but to really get the most out of Zoho, you might want to check out the paid version too.
3. Pipedrive
This sales management tool is meant to help small teams manage large sales processes. The focus of Pipedrive is on the salespeople themselves, giving them the tools to manage and solve the hardest problems that other CRM software can't. Owing to the friendly UI and the ability to integrate with most Google apps, it's a fan favourite amongst new users.
4. Salesforce CRM
Salesforce is an on-demand CRM software suite offering tools for most mid to enterprise organizations. The focus with Salesforce is mostly on sales and support. The features offered by Salesforce include management, marketing automation, partner relationship management and customer service. It is a highly flexible tool but has a steep learning curve. Those of you who are tech savvy will be right at home, but if you're not very technically inclined, this might take some time to get the hang of.
5. Microsoft Dynamics CRM
Dynamics CRM is a very popular CRM system for enterprise organizations. The range of features offered by Dynamics includes lead tracking, sales service, customer service, operation and financial management solutions etc. They also have Android, iOS and Windows phone apps that let you work offline and sync once the connection is restored. It has seamless integration with Microsoft Office which is a huge plus. Dynamics CRM does, however, require a certain amount of training to get off the ground.
6. ProsperWorks CRM
ProsperWorks is a cloud-based CRM tool with a host of features including email integration, opportunity management and lead tracking to name a few. The UI is known to be very intuitive and integrates very well with Google apps. The software is easy to pick up but may not be the greatest at managing complex service lifecycles.
7. Freshsales
Freshsales is a cloud-based CRM solution that helps businesses interact with existing and potential customers. Their main features are sales lead tracking, sales management, event tracking and much more. Freshsales integrates with Google Calendar and is generally a favourite because of its ease of use.
8. Streak
Streak is a CRM tool that directly integrates with your Gmail inbox. This is particularly great for people used to using the Gmail UI. It can be used to track sales, partnerships, support, hiring, and much more. It's fairly affordable and works great for small businesses.
Most of the CRM software mentioned in this list is customizable for various types of businesses. You will be able to gain customer insights and analytics that will help you drive your business forward. However for large enterprise organizations robust software solutions like Salesforce and Dynamics are recommended due to the complexity of the sales life cycles that may happen. If you're running an independent or small scale business, we have found HubSpot to be perfect because it's absolutely free, and very easy to learn. Streak is the simplest CRM tool in the list to use, because of its complete integration with Gmail. It is used within Gmail, making it a great contender for organizations that can't afford to spend on training.

We have mostly listed cloud-based CRM solutions due to the fact that on-premise CRM solutions tend to be a far more expensive. There are many advantages to cloud-based CRM solutions to on-premise CRM solutions, you can click here for more information. The short version is, cloud-based CRM software are easy to customize, cost far less, you don't have to worry about hardware issues, and they are very easy to integrate into various other apps.
Topics: CRM