What is Quora?
For those not familiar with this exciting platform, Quora is an interactive platform where users can post questions and the community of other users can answer them. This Question-Answer platform is becoming a popular option to enhance client's digital marketing strategies due to its high influx of influencers who promote the products. Influencers not only help in bringing awareness about the products but also help in building brand loyalty through positive feedback and reviews.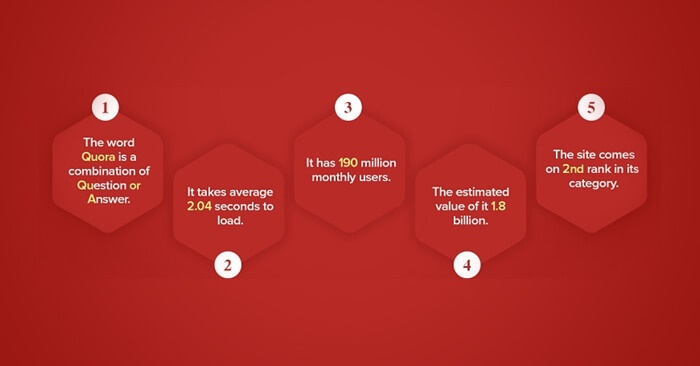 Source: https://www.fullestop.com/
Why should Quora be used for marketing?
Free marketing to build online reputation
While Quora is an open platform, anyone can sign up for an account and start answering questions. Brands can harness this open platform to market their product by showcasing their features, promoting the brand using expert advice, interactive with the customers and address the grievances about the product/ service.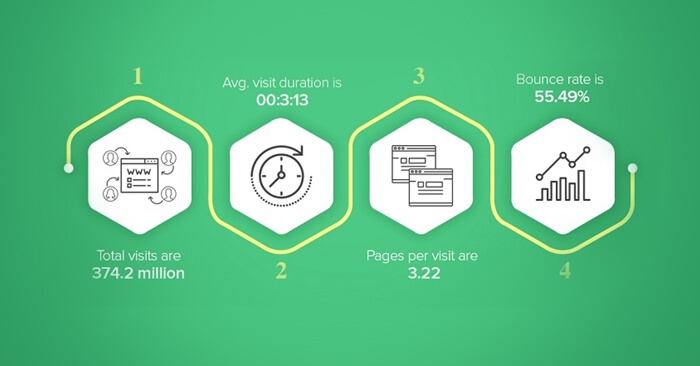 Source: https://www.fullestop.com/
Market Research and Surveys
Quora is one of the best platforms to conduct market research is being used for getting authentic customer feedback. These surveys are completely free. This platform helps brands to understand their customers and also analyze the strategies of their competitors. It is essential that the questions are clearly written, should encourage people to answer them and are on what people want to know. It is also important that the questions are open-ended and new.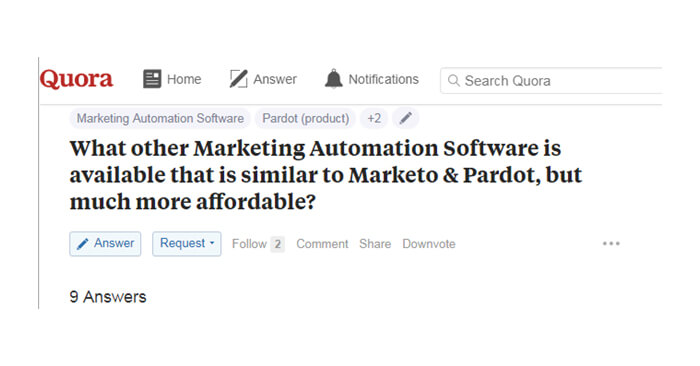 Power of Influencers/ Experts
Influencers have immense potential of reaching to people across the globe through their expert opinions. Some people have a tendency to buy products based on the second opinion expressed by the influencers. Quora is becoming a promising tool to aid this interaction. Users across the world have an opportunity to ask their queries when in doubt which are answered by experts. When users like the answer, they can upvote them and downvote if they dislike them. It allows the users to be transparent and helps to gain popularity with their genuine thoughts.
Cross Promotions using other networks
Quora being a versatile platform allows users to share the articles on various social media platforms like Facebook, Linkedin, Twitter, Tumblr, and WordPress. By doing this, the marketers can help the brand build a social presence in other networks breaking the effort of repeating the same contents in all platforms.
Perform, Analyze, Repeat
For any campaign conducted on social media platforms, it is essential to analyze the results of the performance. Quora provides a visually appealing, user-friendly graphical representation of the content's results. By analyzing the statistics like a number of views, shared, upvotes, comments the users can decide which community is trending for better reach before posting the contents. This analysis is available for different periods of time: last 7 days, last 30 days, last 3 months and all-time.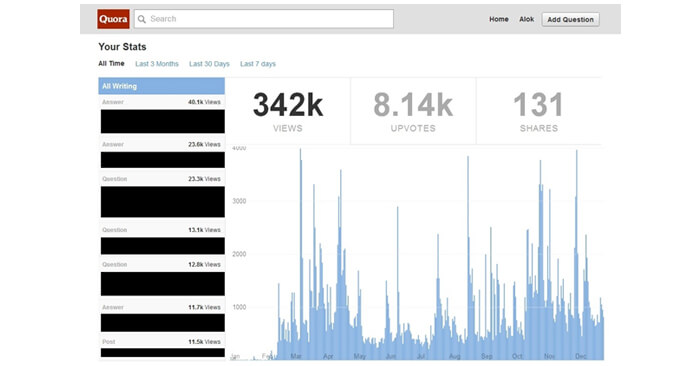 Topics: Quora, Online Marketing