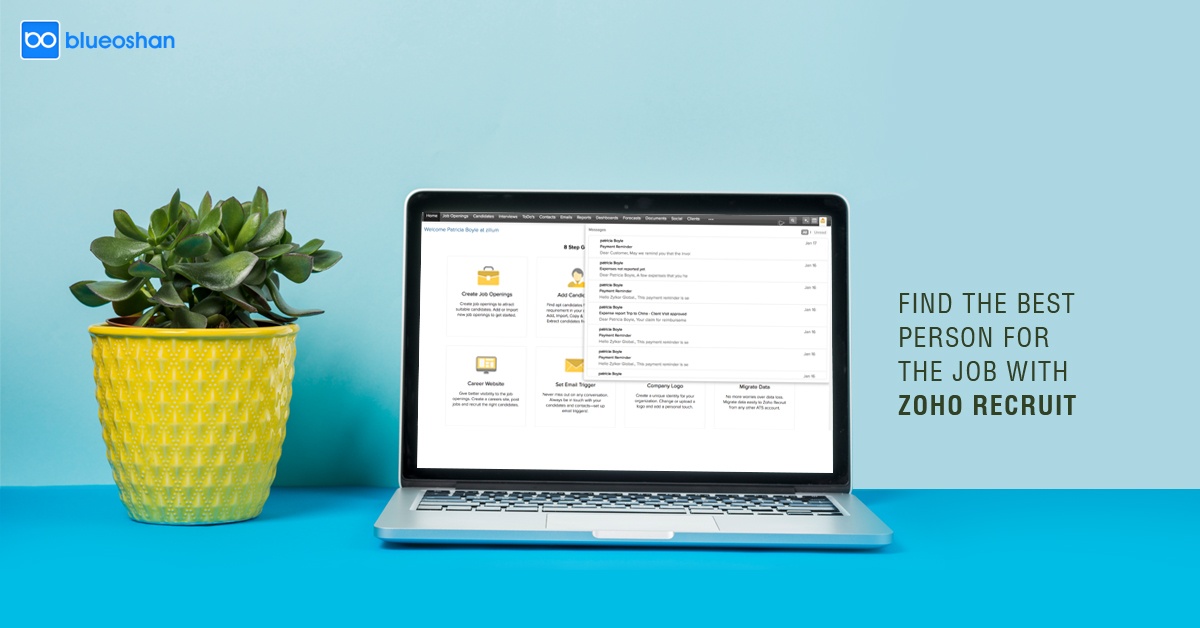 Source: Zoho
Zoho Recruit works on two levels for you—one for if you're in the HR department of a company, and the other if you're a recruiter. While both are looking for the best talent out there, the needs and scope of an HR executive and recruiter are different.
For Internal HRs
The software makes the process of sifting through candidates and zeroing in on the right one efficient and time-saving. Automation and customisating options aid in this. When it comes to automation you can use Zoho Recruit to source, track and hire. You can expand your reach by posting about the job on any one or all of the job boards and social media sites Zoho Recruit is integrated with—such as Linkedin, Monster etc. Once the resumes come in from various sources or via email they will be extracted, parsed and formatted automatically, even the candidates progress can be tracked easily. You will also be able to do a quick view of a particular candidate, see his profile, the job interview etc. All this makes recruiting almost effortless. With the customising features you can create a careers page, that reflects your brand, within your organization's website through which people can apply for jobs. Added to this, whatever the field your business is in, you can accordingly choose custom buttons, fields and status within the software and make it yours!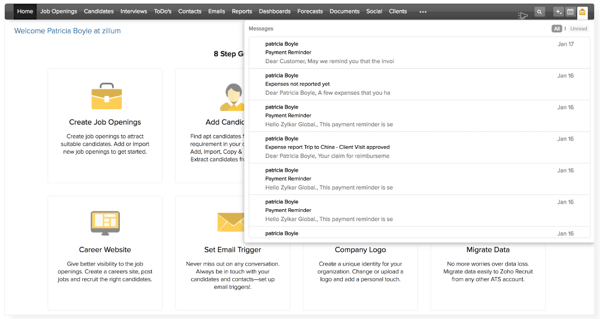 Source: Zoho
For Recruiters
Much of the services on offer which serve internal HRs will be of value to recruiters as well. You can create and publish job openings on well-known job boards, you can create a properly designed career page and manage and parse resumes efficiently. Added to all this, there is the facility to keep a record and track calls and emails sent to clients, and by integrating with Zoho Mail and other Mail apps, you can get the emails within Zoho Recruit itself. With the bulk messaging app integration, you can cast a wider net when it comes to finding suitable candidates. While recruiting there is a need to constantly stay in touch with candidates and clients and update both, thanks to the phone, sms and email integrations, this can be done easily. You can also customise and automate workflows that work for you and yours agency.
Click here to learn more.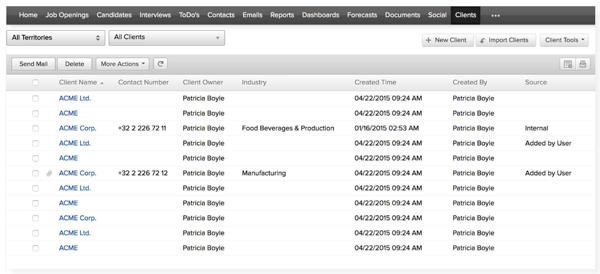 Source: Zoho
Review
'If you're specifically looking for a tool that lets you manage and hire recruits, then an applicant tracking (AT) tool such as Zoho Recruit (which is free for one recruiter and one active job per month) offers robust functionality that ties in nicely with your entire software ecosystem.'- PCMag
Topics: Zoho, Recruiting Software