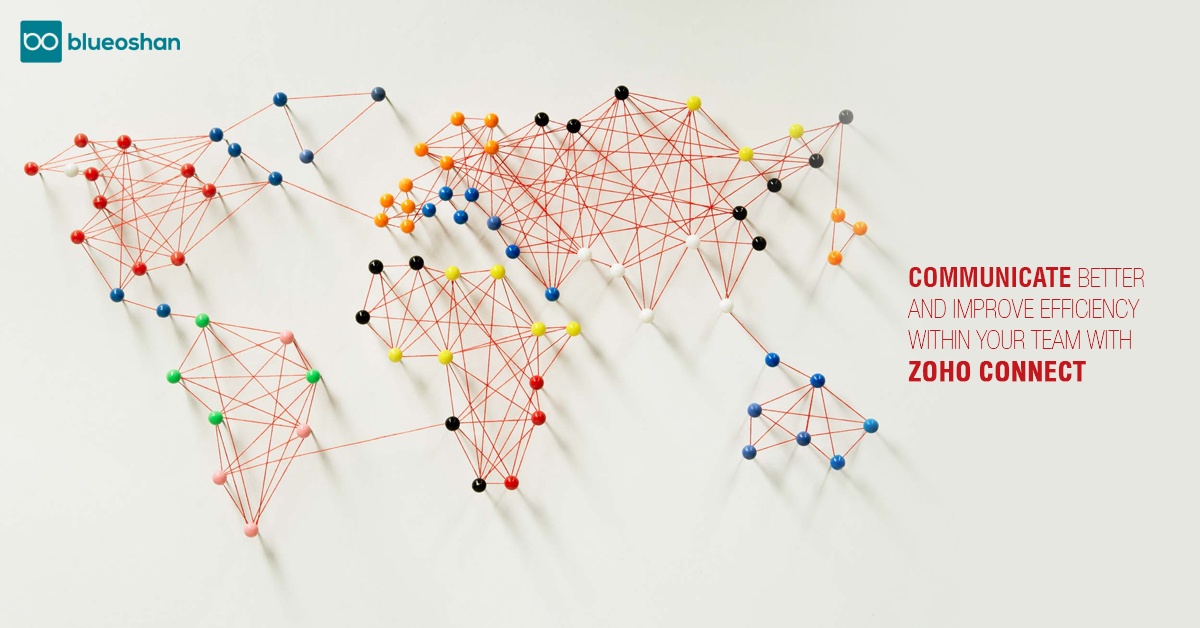 Source: Zoho
Zoho Connect is essentially social media for your office. And, ironically, it is a social media service that boosts productivity and increases efficiency — What's not to love! Find out why you need Zoho Connect for your organization.

Source: Zoho
Create groups on Zoho Connect — Public groups where all members can see what is being worked on, and private groups where sensitive information can be shared with a select few team members.
Guests, such as consultants, can also be temporarily added to groups.
Use the team wall to post an idea and let the creativity unleash.
The post will turn into a discussion and brainstorming session with members posting their thoughts and opinions.
Enable moderation to approve posts and comments so that sensitive information doesn't get shared.
Posts can be liked, commented and shared. Relevant #s can be used and @mention so that a particular member or group knows the post is for them.
Communicate in real time to reach consensus and make decisions quicker.
If there is a business-related issue to be resolved share it as a forum discussion topic and get members together to come up with solutions.
Zoho Connect also allows employees to get to know one another and find common ground, which brings the organization together and boosts morale.
Store common files in the Zoho Connect group for easy access and to facilitate collaboration on presentations and reports.
When files get updated or edited you'll have a timeline of who made what changes and version history, so nothing gets lost in the process.
Files can be easily organized which means time is not wasted in finding and accessing a particular file.
Files from other folders and apps such as Google Drive, Dropbox and Zoho Docs can be uploaded on to Zoho Connect. So everything can be found at one location.
Assign the right person to the right task and keep a track on their progress, using the Task feature.
Apps can be customized for a particular team using custom forms.
Workflow can also be customized using trigger actions based on what is inputted in the forms.
Data can be filtered and analysed using the reporting tools like charts and spreadsheets.
Create manuals, in the form of chapters and articles, on policies across various verticals.
Experts can be contributors to the manuals and team members can get all the information they need from the manuals.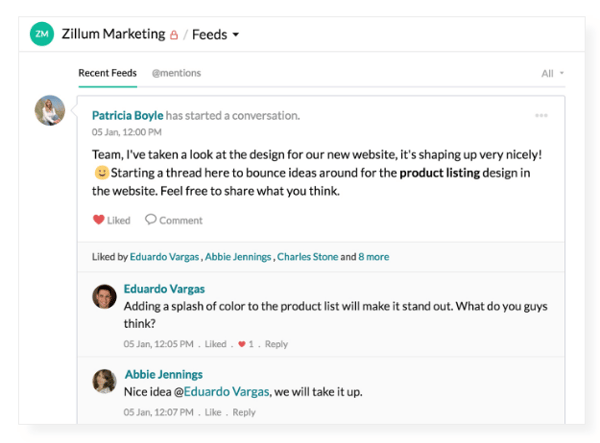 Source: Zoho
If a team member has a doubt they can start a conversation with the expert from within the manual or on the manual wall. There are also provisions for feeds within each article.
Team members can subscribe and follow manuals on topics that are pertinent to them and their role.
Use the group and company calendar to stay updated on what is happening when.
Events can be created where team members are invited and updated. RSVPs can also be tracked, and email reminders automatically sent out to the invitees.
Zoho Connect integrates with a host of Zoho apps like Zoho Campaigns, Zoho Creator and Zoho Docs. As well as third-party apps like Google Drive, Zapier and others to enhance productivity.
Stay connected always by downloading the Zoho Connect app on to your mobile devices.
Click here to give it a try.
Reviews
'Zoho Connect has tremendous exposure to different companies. They offer the same type of software to different industries, so they are better aware of who is doing what with their technological product.'- Free Software
Topics: Zoho